I think I had the hardest run of my life last Sunday. Yes… I call it the Jules Shuffle… For 14 miles! Looking back I still can't believe I made it through that lonely, aching, agony of a "run"? I kept thinking … this is good Ironman practice, right? It got me thinking what my mind and body will feel like when I get to the last anchor of the ironman when I have to run 26.2miles?
So, let me back up for a second…. Last week was miserable recovering from Playtri. I was completely wrecked from the Duathlon and I could barely move for days nonetheless get any real workouts in. I never felt this beat up from an Olympic distance Tri? But these Duathlons are no joke! The whole week I had to grasp the handrail for dear life to take the stairs, ease myself to the potty, and sitting too long was out of the question!
I started feeling better by Friday but I had to quickly turn around and get ready for my last weekend of big volume before Buffalo Springs coming up June 28th. My coach had me scheduled for 60-70 mile bike with 4 mile run Saturday (brick) and 14 mile run Sunday. A workout I've done several times before. I thought I was ready…but was I really?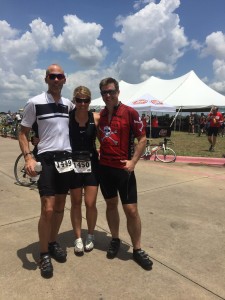 Saturday the guys and I headed out to the Collin Classic for our long ride to switch things up and take advantage of a supported ride on a hot day. I was feeding off the excitement from the rally and feeling pretty good to start. "Finally!" I thought to myself.  I kept up with the guys for maybe a quarter of the ride and then they were off racing and doing pace lines with other riders.  Typical 🙂
About mid-morning the sun started to heat the day and I began to struggle. Surprisingly, I did keep up with my hydration and nutrition (I think?) But it was my body that was the problem, it just started to break down. Everything hurt from the inside out. I had to coast in the last 10 miles. Images of me losing it at Buffalo Springs and Louisville popped in my head –  I tried to quickly push them back out. "Damn, what was going on?" I didn't have an answer.
When I arrived at the finish the guys were at the Texas Land and Cattle tent jumping up and down cheering for me like I had won? Gotta appreciate that after a shitty ride? 😉 They grabbed me water in between chomps of their giant burgers and got me to shade. Once out of the sun and hydrated I began to feel a bit better. But, in my head I knew I had to get psyched to run next. "You're not seriously going to do that?" asked Jeff. I just nodded "yes" thinking of the brick workout Coach Soria had scheduled for me.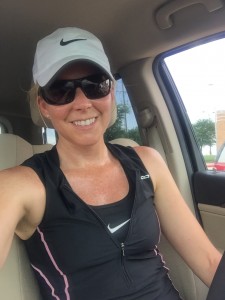 Spears dropped me at Coffee and Cream where I slipped on my running shoes and shot off a quick text to Paul with an update. It was now 2pm, humidity near 90% and temps in the mid 80's. "Good heat training" I told myself as I started off for my 4 mile run. With my hip flexors aching and my calves tightening I pressed on… daydreaming of a recovery drink and a cold shower. At a slow 9:45 average pace I "got it done!"
Now, it was now almost 3pm and I had been up "doin work" since 5:30am. I was exhausted. But duty calls with meetings and social engagements taking me off in other directions. No rest for the weary….
The next morning I woke with significant pain. I could barely stand up strait out of bed from the tightness in my hamstrings and calves. I slowly unraveled to stand upright. My neck, back and shoulders ached with throbbing pain and I felt a migraine creeping up the back of my head. And just the thought of running one mile is nauseating. But, at the same time I knew I better go NOW or I'm not going to get my long run in. "This is your last big weekend" I tell myself. I quickly pulled my running gear together and pushed myself out the door.
My first steps send nagging pain up my legs, back and neck. I press on remembering how the first 7 minutes of any run are always the hardest, right? "I can do this" I repeat over and over to myself. "Shake it off Jules" I say again.  But, I can feel my stride is off and I'm compensating… Which I know is a receipt for disaster, yet I continue.  As I complete mile one I notice I'm only cruising along at a 10 minute pace –  it's then I realize it's going to be a very long day. And it was.
I decide to gather the rest of my miles with a few out and back routes by my house in order to stay nearby in case I needed to call it quits. But, at the same time I knew I wouldn't let myself do that… Yet, the safety net still felt good somehow?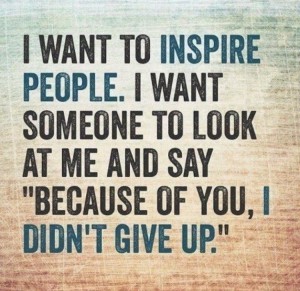 With the Grace of God I got 9 miles – my average dropping back to 10:20 and I am immediately thankful no one is with me to witness this awful display. I stop home to refill my water bottle and I hear Paul from the office, "How much farther babes?" I weakly answer "five to go." He smiles and waves his hand as if to say "that's nothin" and replies, "Not much at all – I'll see you real soon!" As I stumbled out the door I thought, "that really isn't much? Yes, I've got this – so close now!"
I shuffled out those last 5 miles up and down Teel praying all the way. My body was really starting to break down but I wasn't going to cut it short now! When my watch clicked 14miles it was one of the most glorious feelings – I had beat this day! Most people wouldn't have even got out of bed?
But, you are defined by the hard days. I know that.