"I'm not telling you it's going to be easy, I'm telling you it's going to be worth it."
This weekend was hard.  By Saturday afternoon I hit a wall of exhaustion, dehydration, and that combination spun me into migraine madness.  Damn.
Friday night I headed to Lone Star High School with the Frisco Running Club to support this years Relay for Life.   The track was hot and humid but we didn't care – seeing the cancer survivors walk their victory lap gave us faith, hope and an extra spurt of energy.  I ran 4 miles that night with the most ease and comfort I've had in a while.  Maybe it was the comfort of the soft track? Or, maybe we were running really slow? (Yes, that's probably it!)  But, there was a sense of inspiration in the air that night.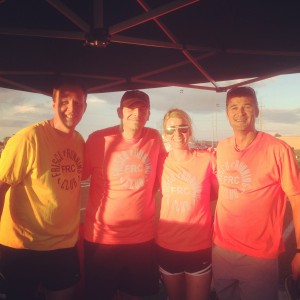 Therefore, on my "rest day"  I went over 30,000 steps.  Yep, probably a bit much, eh?  (And, for the record, I'm *trying* to take rest days more seriously!) So, I was nervous to get up for Saturday's ride/run with the guys.  After Relay I stopped quickly at my girlfriends party but left early – and a bit crabby too I might add — because splitting time between friends and training life is frustrating and I always feel so torn.  And, overall it's just difficult to explain to outsiders.  "Don't leave, stay a little while longer!"  "Dude, do you want to get up at 5:30am and ride 50 miles for me?  I don't think so."
We ended up riding 42 Saturday morning and I ran 3.  I LOVED seeing my FRC peeps and getting back into the groove again.  Little did I know that would be it for me for that weekend… I completely dehydrated myself that morning and then spent the afternoon at a BBQ (in the sun) to further put myself out of commission.  It was bad news bears by 7pm.  You would think I would learn… but nope.
But, of course I was still determined to make the Sunday brick. (Which was way too aggressive for me to be out for 4-5 hours already but…)  When my alarm went off at 6am I was like,  "Ha, this was not going to happen. Nope."  My head was still pounding and I was dying of thirst.  Needless to say, I joined the guys at 10am (still groggy and drugged) for a 5 mile run after they got off the 50mile ride. That's all I could muster up and, it was all I could do to hang.  It was almost high noon, muggy, no breeze, 89 degrees.  I was that girl in pink shorts, ratty sports bra and blonde ponytail trailing behind very fit dudes through Frisco Commons Park.  Luckily, several baseball games were going on so we had an audience for this ridiculousness. ugh.
I know I am going to struggle with "the balance" of everything and that at times it won't be easy. And, trying to keep up with social engagements on top of training harder than I have in months could add up to a recipe for break-down. #becareful
I need to be true to myself, listen to my body and believe in my goals.
Because, I know it will be worth it.