About a month ago at
Hope Fellowships
women's conference we had a speaker,
Ryan Leak
, ask us this exact question and it really resonated with me.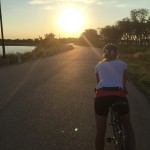 It got me thinking … failure is in fact necessary to overcome defeat, to figure out who you are, what you can overcome and discover what's really important to you.
All the great athletes have failed, had a bad race or fallen to their knees asking God why? But we don't witness those days or give trophies for lessons learned – we only recognize the limelight, the victory, the podium.
Yet, we all must fail before we succeed, so why are we so afraid?
This training season I'm trying many new approaches, one in particular: I'm not afraid. I'm not scared of bonking, failed interval attempts, getting dropped or about races that won't go my way….because with each setback, I'm moving one step forward towards success.
That said, it scares the crap out of me at the same time. There I said it! And that fear has nothing to do with whether or not I hit my racing goals, it has more to do with allowing myself the freedom to let go, be ok to fail sometimes- which is more of a psychological shift than a physical one.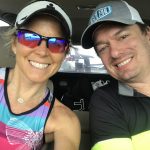 With the support of my husband, coach and team, I know I'm capable of training hard without overtraining, getting injured, and obsessing over fuel calorie intake. That I'm capable of training hard without being consumed by industry obsession, gadgets or compromising my relationships. I'm not afraid to give it all to God.
I think everyone has a story and their reasons to find success, harmony and balance in something they love. I'm blessed to be able to get up each day and do something I enjoy with people who lift me up over and over again.
So I ask you, what would you do if you could not fail? In life or athletics? What would you go after? How would you live your life differently?  I challenge you you to find out, to try…
Be strong and courageous. Do not be terrified; do not be discouraged, for the LORD your God will be with you wherever you go." – Joshua 1:9