We had just made the almighty climb up the infamous Windhaven Hill. My body was fatigued to say the least. I, of course, was the last one up and the guys had been sitting there a few minutes waiting. I arrived  (finally!) and circled around to find my place again in the back of the pack. 
"Alright, let's go! Jules you coming?" [in my head: wait, ummm I need to stop. Umm.. Need water. Can't breathe.]
And, before I could make another move to pedal or grab water I tipped right over at the stop sign. It was in slow motion — NOOOO!!!! Yep, right in front of all the early risers at Austin Ranch – including a police patroller decked out in his navy blues, ridin the crown victoria.  (Where the hell did he come from?) But, he made sure that my floundering self – all laid out on the pavement and stuck underneath my bike – was even more of a spectacle by pulling up right beside us. Thanks officer. 
"Ma'am are you ok?! Did your feet get caught?! I couldn't reply from the laughter behind me – the guys were rolling with laughs and sarcastic comments. "She was like a turtle stuck under her bike – couldn't turn over to get up!" Hardy har har. 
But, finally, I replied, "yes, all good!" And, gave the Karger thumbs up to reassure I was A-Ok! Off we went, bloody knee, scraped thigh and bruised ego. I'm sure it will not be my last "tip over" but at least I was able to laugh this one off and it was nothing serious.
We ended up going 40miles on a hilly route against some windy conditions. It wasn't bad but I started to struggle at the end and Zach had to "pull" me back. And, that's only 40 miles. Hard to think right now that I'll have to go 56 and run 13 (after swimming!) come October! But, one day at a time. One day at a time.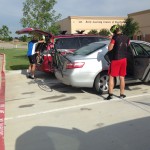 However, on a positive note I timed myself in the mile swim on Friday. Very happy to report that I  completed it in approximately 25 minutes!! That's a personal best by far! I was working my little fin off and really pushing to see where my training was at. I guess all that time I was FORCED in the pool due to injury is paying off. (Obviously, this won't translate to open water – but getting stronger in the h20 nonetheless) I'll take it. Even if swim caps and goggles squeeze my brain and I constantly smell like chlorine I think I'll keep it up 😉 I mean, you can't fall over in the water – right?