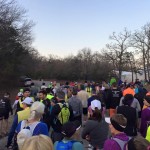 I cannot move. Not one muscle. Still.
Sunday I woke up and could not straighten my legs to walk – my calves and hammies were so tight I had to move upwards slowly like the old man at the pool. Even my arms ached like I had been to CrossFit. But it wasn't CrossFit or a triathlon – it was the most technical trail run ever!
Wednesday I made the impromptu decision to run the Cross Timbers Half Marathon Trail Run at Lake Texoma on Saturday, February 13. The website said it was "one of the toughest little trail runs in Texas and the course consisted of mostly narrow, hilly trails with some rocky and hazardous areas." Ha! Ok…. That didn't phase me as I was going to take it slow and enjoy an off-season "fun run" but when it came time to run… Well, I quickly questioned if I was going to finish!
At the start I could tell most of the regulars were looking and laughing at me. Did I look THAT out of place? Perhaps trail runners don't wear Lulu Lemon and Nike Frees? Duly noted!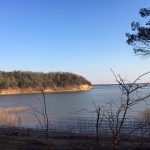 Also, the "people watching" at the start was hilarious. From what I gather – it's the complete opposite from triathlon. The MORE hardcore you are at trails, the less crap you have. More "living off the land" I think? There were a few trail runners that looked homeless to me… But I'm sure they probably won? 😉
That's the other thing – at the start when the gun went off. There was no sprinting. None.  First race I did not got get trampled.  Somewhat refreshing?
Hamlin, Mort and Tall Mike started first at 7:00 AM running the 26.2 course and were off before sunrise. They've done this plenty of times before and I jokingly said they would probably finish 26 before I got done with my 13!! (It was close…) We didn't see them again.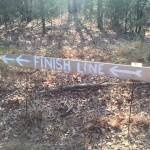 Then, at 7:30 AM a larger crowd joined to start the 13.1 as Jason and I nestled in towards the back. We were both newbies and didn't want to get trampled. Looking back, that wasn't the best decision because we got stuck in the back on a narrow trail for awhile, but live and learn. I stayed with Jason for a couple miles, but he was off as soon as we got around to the first part of the lake. And as usual, Jules is bringing up the back of the pack!
I found two girls that were moving a tad slower than I wanted to go, but thought I should pace off them to ensure I wouldn't bonk. I kept with them chatting through the halfway point and all the way to Mile 10. I followed their footing closely over creeks, trees, hills, rock climbs and plenty of MUD! There were points on the course where I was literally using my hands and feet to climb "Belay on!" :))
I will say, the joke that I should wear a helmet trail running is not that far from the truth. Bit the dust three times! It's so beautiful I look up and then I'm down…
After mile 10 there was another aid station and I was feeling fairly strong (and just wanted to be done!) so I pressed on quickly to the finish. I passed several people that left me in the dust before – it was hot now and people were bonking. I finished in 3:55. Yes, 3 hours and 55 minutes! Jason and I had a good laugh that my 13.1 trail run time is slower than my 26.2 road time 🙂 He finished around 3 hours and placed well.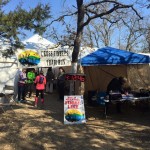 After a quick recovery in the tent we were off on our way home and during our Starbucks stop we heard from Mort, Ham and Tall Mike … They had finished and did awesome! Great day had by all 🙂
Maybe next time I'll get some gators or real trail kicks… Perhaps a helmet!