Monday was our 7th wedding anniversary. Now, while a lot has happened over those seven years of wedded bliss, the part I want to highlight in this post is the amazing love and support from a "husband of a runner"
There have been several articles written on this very topic – some of my favorites here: Date a Girl who Runs. And, How to Date a Triathlete
But I want to personally thank (if I can even begin!) my Hubby for the early morning rides to race starts, the financial burden that comes with equipment, training and traveling, the countless hours that I am gone "on the road" and for the ear he lends as he listens over and over as I groan over each ache and pain with every hard workout.  But, I am mostly thankful for him pushing me to dream, reach and strive for the next goal. For without, I know I wouldn't have the energy to pull myself out of bed at 5:45AM!
So, the last seven years have been quite a run. (Pun intended) And, I would like to acknowledge the Top 7 Moments of Jules & Paul – Runner Edition.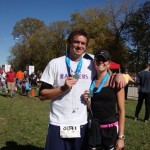 Our first Half Marathon together – In 2009 I went to sign up for my second half marathon (ever) and asked Paul, "Hey, there is a 5k that day if you want to run that while I do the half?" His reply forever rings in my head, "What makes you think I can't run the half?" Ummm… ?  Long story short we both signed up for 13.1 and the "training" started. He would skip weekday workouts and barely go the recommended weekend mileage saying, "Jules, it's 90% mental and 10% skill. I've got this." Well, I have to hand it to him because he hung with me for 10 miles of that race before I slipped away to finish just before him. And, this non-runner who didn't train a lick ran a 2:10?! He'll agree – it was pretty darn painful. He claims it was first and last 13.1.  (But, the jury's still out.)
My first triathlon (Blackland Tri) – I had no idea what I was doing signing up for my first triathlon – none!  I had done a couple of swim workouts and rode a bike before but that was it.  Taking a chapter out of Paul's book of "just go for it" and "training is overrated" I signed up.  I was so nervous about the transitions, getting disqualified for drafting or mounting/dismounting in the wrong place – there was so much to think about in triathlon!  Race day came and I made the BIG MISTAKE of providing the wrong "approximate" time for the pool swim and I was grouped with high schoolers that were Phelps and Lochte look-alikes.  After getting trampled in the pool I finished alone in my group — I stood motionless, exhausted not knowing where to go?  Paul hopped down from the crowd and yelled, "C'mon, go – this way, move it!!!" I started walking.  "RUN!" He exclaimed!!  I guess I didn't realize that you run through transitions?  (Oh, I've learned so much! )  Later he told me what a fool I looked like and that I better get some hustle if I'm going to keep doing "these things".  It was this race that Coach Simon was born.  
Tour de Fleurs 10k –  While Paul had written off the half marathon he still gave the Tour de Fleurs 10k a shot in 2011.  We started out together again – this time just for just one mile before I tore away.  I remember finishing in a personal best (or close to it) and I couldn't wait to tell him.  But, where was Paul?  I felt like I waited a long time for him to finish…. the clock just kept ticking.  "He must be walking" I thought?  I ran back about a quarter mile near the sailboats and sure enough, there he was!  We finished together just in time.  It was now almost 80 degrees.  The very best part?  Beer garden together after.  Beer really does taste better sweaty.  Better yet?  Post-race beer with your best friend.   
Freedom Run 5k –  Paul's part of the DAYL who put on the Freedom Run every year.  So, we've been involved for a few years now.  But, in 2012 Paul beat me in the 5K.  Yep.  This was one for the record books.  Haven't seen him smile so big or so pumped about an athletic pursuit in awhile.  I guess it is 90% mental, eh?  Well played Simon, well played.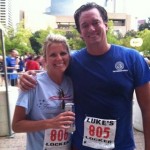 My First Full Marathon – In the Spring of 2011 I ran my first Marathon, the Big D.  I had trained hard, done everything by the book and properly stayed on my nutrition plan during my months of training.  I was ready to hit that 4-hour mark right out of the gate!  Paul knew my goal and was giving me advice and tips leading up to race day.  (Thanks Coach!) My sweet husband (and Dustin!) drove all around Dallas to  5-6 different spots to see me race.  I was so touched and excited each time I saw them alongside the course.   I had lost my race for the 4-hour mark somewhere around mile 20-22 and when I saw Paul at mile 26 (with .2 to run) I saw him tapping his watch! As if to say, "you didn't make it" HA!  We still joke about this.  Nice support, Coach Simon!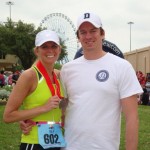 The Boston Marathon – A lot of people call the Boston Marathon the Amateurs Olympics.  Reaching that milestone would of never been possible without the love, support and encouragement from Paul.  Him believing in me and seeing me through the best and most challenging time in my life just made us a closer couple – and me a stronger person.  I can't thank him enough – for it all. 
30th Birthday Run-  3 years ago I started "running my age" in kilometers.  I got this wild idea from Hamlin Jones, the head coach of the Frisco Run Club.  However, he runs his age in miles (this year he is doing 43 miles! Whoa!)  It is a great way to start off your year — a truly fresh start!  So, the first year on my 30th birthday, Paul took me down to White Rock for the inaugural event at 4:30am.  He rode a bike alongside me and my running peeps for 18miles (give or take) and took pictures to document the event.  All I have to say is, whatta guy!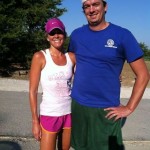 I'm not sure what athletic pursuits will come or how many birthday runs I can keep up – but I wouldn't want to share this crazy life with anyone else.  Can one person be your everything?  Can one person give you what you need?  Are there really soul mates?
I think you know my answer.