Today is the DAY! Runners around the country have trained all year for this very day. Patriots Day. The biggest and most prestigious road race in America is about to start. Some may even call it the amateur Olympics.
Today is the Boston Marathon.
I loved seeing everyone's Facebook and Twitter updates this weekend preparing for the big day. Pictures from the expo, posed finish line shots and even the new marathon scarf project! (jealous!) I had re-qualified (at Boston) but was one of the 2,900 qualifiers with a squeaker BQ – not quite making this year's cut off. However, since I'm injured this spring, it's probably just as well. So, I find myself living through others! (Thank goodness for social media!)
If you follow running you may have heard of my one of my idols, Shalane Flanagan. She was on 60 Minutes last Sunday declaring she was going for the WIN at Boston. She said it would mean more than any Olympic gold medal or any world records! She was quoted on Boston.com saying,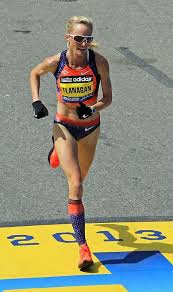 'If I could have one wish, it would be to win this specific race on this specific day,'' she said this week. ''It basically would be the highlight of my career, for sure. If I could win this specific Boston: It has the most power, the most meaning behind it, of all the Boston Marathons that would be run.''
 It's been a year of national sympathy and love for Boston and American athletes have obviously arrived to stake victory! It's been since 1985 since an American woman has won – could history be made today?
Another one to watch today bringing up the back of the pack is Dick Hoyt and son, Rick. You have probably heard of their AMAZING story in athletics over the years. Last year was suppose to be their last Boston until they were stopped and re-routed with about 5,000 other runners who were unable to cross the finish. This year they are back to complete their 32nd consecutive Boston Marathon together. Yes, you read that right, 32 years in a row! What an amazing story of a dad's will, determination and strength to give his special needs son a sense of "normal". Rick told his father, "Dad, when I'm running, it feels like I'm not handicapped." Now, since 1977 they have completed over 1,000 races including marathons, duathlons and triathlons (6 of them being Ironman competitions)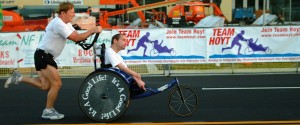 A statue of the Hoyts is in front of Center School in Hopkinton near the start line of the Boston Marathon – unveiled in 2013. But, we didn't need a permanent fixture – we already have a permanent place in our hearts reserved for Dick and Rick.
Videos I LOVE 😉
And Good Luck to all our Boston Marathon runners taking back Boston today! #bostonstrong