It's go time. Yes, in the morning we head for Austin and I will complete in my first Half Ironman. Luckily, Zach and Jamie are letting me hitch a ride since Paul and Dustin are already out that way for a conference. But, it's getting real. I'm packing up all my gear, nutrition, transitions bags, and prepping my bike. I'm reading over the 12-page athlete guide (whoa?!) and studying the course.  Nervous? Excited? You name it – it's all running through me. Triathlon has been somewhat of a new beginning for me and I've learned A LOT!  So here it goes…
Things I learned about being a triathlete (so far!)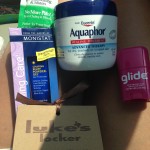 Lube. Oh, the importance of lube! And, the many different types you need.  I won't go into much detail here – but you can use your imagination!
Goggles. Racing outdoors means UV lens, yes. But don't go too dark and you won't be able to see the buoys to sight! (See sighting)
Wetsuits. Where do I even begin with this …. A little spray lube and you can slip this sucker right on 😉 Watch the neck hole and arm holes for rubbing – extra lube needed there! Oh, and it's perfectly normal to feel squeezed in like a sausage. (So they tell me 🙂 )
Sighting. What is that? Being able to open water swim (OWS) with thousands of swimmers while successfully peaking up your head ever-so-slightly to sight the buoys to adjust accordingly. Fail to do so and you'll find yourself solo in the middle of the lake :-/  (hey, we've all been there!)
Transitions. Otherwise known as T1 & T2. These should not be overlooked as they are combined to your overall time. At my first Olympic race last year I was so worked up about the swim that once I was out of the water I was brain dead! I had the longest T1 transition to date. (I also looked like the walking dead and ran into a giant orange cone on my way out to the bike! But nonetheless, learning experience!) 
Bricks. (WTH is that?) I didn't really know either when I got started. Although, I was already doing a version of them. Technically, a brick is a ride followed directly by a run combined in one workout. They help prepare you for race day conditions – you know, when your legs are feeling like "bricks" coming off the bike! If you haven't done this before I would equate it to sitting a long time at the bar (after a few drinks of course) and then trying to hustle to the bathroom… You get the gist. Your legs don't work!
Tri Bike. Such a thing exists, really! The main difference is the geometry of a tri bike – it's more aerodynamic and has the rider sit more up-right and over the bike. This allows the athlete to utilize his/her quads on the ride therefore saving hamstrings for the run. I LOVE my QR lucero tri bike but the technology is always changing and I'm already asking Paul for the latest and greatest! (A girl can dream, right Paulie?!)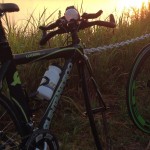 Kits. A triathlon kit is typically a branded or sponsored set of gear for your team or group. Everything from tri tops, tri shorts, cycling jersey, hoodies, t-shirts, etc.
$$$$ – Yeah, this sport is expensive! I learned that real quick. All the cute running clothes I got for marathon training doesn't hold a candle to the price of wetsuits, wheel sets, coaching and ironman registrations. Cha-Ching!
Exhaustion. That's for real. People always told me about this and I shook my head and nodded, duh?! (I'm a runner, I've done 7 marathons, I know fatigue?!?) Apparently I don't!!!!! In this program I've only been running about 25 miles a week and been more tired than I've ever been before. Combing three disciplines is mentally and physically challenging in ways I never expected.
Taper- a quick significant dip in training volume in preparation for a race. You would imagine this would feel good and your energy level increases? Nope. At least not at first…. I don't actually understand the science but you feel worse before you feel better. Poor Paul, I've been a very tired crabby taper wife :-/ But, even a short taper reaps many benefits.  It's worth it!
So, am I ready for Sunday?  I guess I'll find out! #2days #austinorbust