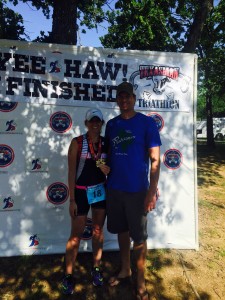 This past weekend I did the TexasMan Sprint Tri. I hadn't raced since Austin 70.3 in October, so while I was eager to get out there again, I didn't know what to expect?  My training so far had been a little inconsistent and I wasn't feeling very confident going in. But, I needed to see where I was at – time for the truth!
I had somewhat of a "taper" week going into race weekend (which I didn't feel like I earned!) but the recovery week was welcomed and I got my head and body ready to race. Saturday was the Kentucky Derby and Fight Night – both of which I completely missed due to race prep. It's times like this that make managing a "normal life" and an "athlete life" incredibly difficult. I know cannot do it all and I have to let go of that… Yet, I find myself in turmoil more than I would like :-/ Where do I find the balance?
Well, Sunday morning came fast as my alarm went off at 4am! I slowly moved my tired body into my spandex tri gear and went to the kitchen to grab coffee and a banana with natural peanut butter for breakfast. I double checked the rest of my gear all loaded in my new transition bag – courtesy of Paul – and started thinking through the day. A few minutes later Paul came down looking a little rough from going out to watch the fight, but hey it was 4am?! "Are you ready?" He asked.
We met Jason Spears and Hamlin Jones at Coffee and Cream to caravan over to Johnson State Park. (It was so early the coffee shop wasn't even open yet!) We got on the road around 4:45am and made the one hour trek to Pilot Point. When we arrived athletes were everywhere and parking was limited – I realized fast this was a bigger race than I anticipated. We slowly made our way to body marking, chip pick-up and transition.  Later I realized I forgot to put out my sunglasses so I was squinting the entire race! (Hard to remember when it's pitch black out when you're setting up!)
Outside transition we had a few laughs trying to get into our wetsuits and finally made our way down to the beach start. It was a beautiful morning and there were several hundred athletes doing the X-50, Olympic and Sprint distances. A really good turn out!! I was the very last swim wave to go out so I had a lot of time to sit around and wait… I probably didn't get off until 8:30?!
But, when the gun went off I had a brutal surprise – COLD! My warm-up was in shallow water and didn't feel bad but as I raced out into the lake my body froze and I had a hard time moving and breathing. Not to mention I thought it was a good idea to be in the lead pack so I got kicked and knocked around taking a few giant gulps of lake water for 500 meters. Good thing the swim was relatively short and I was on land in just over 7 minutes. I came hustling out running past a few girls who stopped by the wet suit strippers  (I stripped myself – high five!)
It was a long jog up to transition where I saw Paul yelling at me, "Move it, C'mon! There's two in front of you!" I nodded and kept up the sidewalk. I learned later that he said "a few in front of you" but I'm glad I didn't have that information heading into the bike 😛
I had a quick transition and got moving well on the bike. I thought, "ok, I've got this!" I was right around 20mph and handling each hill without any issues…. well at least for 5 miles. Then the bad a$$ cyclists started to catch me and pass me like I was standing still. Dammit! Why do I suck so bad on the bike? I got to the turn around averaging close to 19/20mph easily and then my world changed – now into the wind. I turned to self talk: "Jules, stay down and focus on power. You're over halfway!" My legs started to feel VERY heavy and my heart rate started to rise quick. The one girl I tried to stay on was now out of sight. I was losing it.
I came into the park around 17.5mph trying to get focused and ready to run. (I needed to let go of my bike performance) The words from Coach Soria rang in my head, "This should be your fastest transition – transition is free time!" I quickly dismounted my bike and put it up at my transition area. I kicked off my cycling shoes and tried to put on my first running shoe ….but my legs were too unstable to stand on each leg to do so!! I was NOT going to sit down and put on my darn shoes so I continued to wobble and attempt to put on each shoe – for what seemed like minutes!! Wasted minutes! I'm sure it was quite comical to the transition volunteers? Eventually I got two shoes on and ran out slinging my race belt on with a GU hanging out of my mouth. Classy.
After that comedy of errors I was ready to hammer down but my legs were still shaking like a baby learning to walk. About a quarter mile in I looked down and I was running 8:20. Dammit! I need to get down into the 7:00's and quick if I'm going to have hope of putting up a good time! The course was an out and back through a well shaded trail. I've ran this course before and done well but today, I wasn't – my first mile clicked at 7:37. "At least I'm in the 7:00's I thought?" trying to stay positive and focused. I continued to push my effort breathing like a women in labor (in, in, out) for another mile where I passed two more females.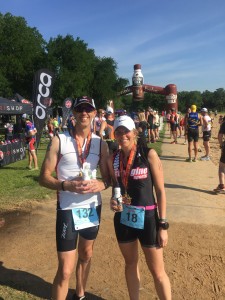 Heading into the finish I was finally cruising just south of 7:00/min miles – but it was over. I crossed the finish at 1:25 as the announcer blurts, "Julie Simon top 5 female finisher!" I stumbled through the chute grabbing my medal, water and handing off my chip. Exhausted I get to Jason Spears first, "you're going to be pissed when you hear where you finished!!" Thanks buddy, but the loud mouth announcer just told me…. Paul arrives, "Great work babe! Over there are the chicks that beat you. But, I bet you placed in your age group?" I notice the girls he's pointing at are totally cooled down and laughing.  I still can't take a complete breath…
So, I could be discouraged but top 5 ain't bad and this past weekend proved to me that I love to compete… And I'm ready to commit more than ever!
Next up, PlayTri Festival Olympic and Buffalo Springs Lake 70.3!