Taper…. finally.
It's been a long road.   A long hot summer of training – many weekend rides I thought I wouldn't make, several runs I couldn't feel my legs and a few swims I came up choking up water.  But, here I sit with just two weeks till my first Half Ironman and *I think* I feel ready.  (Well, not exactly at this very moment because my legs feel absolutely shredded — but I know I will be!)
I think back and reflect on my training journal and am proud of what I've been able to do … but I sure didn't go at this alone!  I've had a lot of help along the way…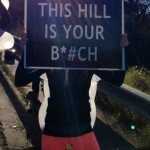 I've had  "my guys" who are like brothers to me and would train with me every week and push me to be better.  Specifically, Zach who always wants more for me (and never let's me slack)  "I don't want to go up Windhaven today, just not feeling it" I would say some mornings.  He would reply, "Oh, you don't want to get stronger and be better?  Fine, that's your choice.  Whatever Jules."  (Ugh, we always did Windhaven hill)  I know I'll thank him when I hit the Austin course!
And, my run club besties who would always check in with me each week and sneak in miles with me at every chance.  They literally have been supporting me every "step" of the way.  Bridget even ran in some of the hottest humid weather to hang with me…  #icouldntbelieveit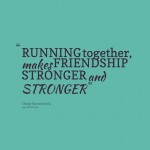 Oh, and my friends think I'm a little "mental" (and they tell me that!)  But, they love and pray for me and lift me up on my darkest days.  They are always there for me and don't care if my wardrobe is mostly spandex now days.  These are true friends I tell ya! The BEST!
A few weeks ago I had been really struggling  out on a ride – I was about half way through and wanted to quit.   When we stopped I looked down at my phone and I had this text from my sister.  "Just checking in on you jules – remember to drink a sip every mile and EAT!  Kick Butt!"  It was so timely and just perfect.  It was like God knew I needed that little burst of love and energy at that exact moment!  I made it through the ride and texted Jenn after to tell her the good news  – I had made it!  Jenn just "gets me" and is truly one of my biggest supporters on this journey.
Speaking of people who get me and support me the most… I have to give major props to my loving and supportive husband who has given me more than I could of ever asked for these last few months!  Putting up with the early mornings, the 4-5-hour rides on Saturdays, the whining, a constantly tired wife, lame weekends, no home cooked meals, expensive gear, "crabby Jules", a bike trainer in the living room, and a constant chlorine stench in the laundry room….  Yep,  he has been simply amazing in more ways than I could list  — but most of all, he takes care of me.  All of me.
So, as I take on this journey in two weeks I know it's not just me stepping up to the start– I have all the people behind me who will have helped me get there. #13days