Little by little… day by day.
Success doesn't come over night and while I know this, it's hard to keep pushing so hard without seeing any return. 
This couldn't be more true for me than on the bike. This has always been my weakness since I started in triathlon –  I just never could get the swing of it! I know all newbies struggle with clipping in, stopping at stop lights and having to adjust to the ever-nagging saddle soreness. But for me, it was more than that… 
I was slow, sluggish and just plain sucked. And climbing hills, forget it! The guys I rode with would literally have to stop every few miles to wait and/or ride circles around me. Remarks like, "if you go any slower you're going to tip over" were barked at me and "Are you sure there's not something wrong with your bike – you're so slow?"  I was so far behind the rest of the crew I trained with it was embarrassing (and if I'm being honest, I'm still mortified a lot!) My run fitness just never translated to bike fitness – ever.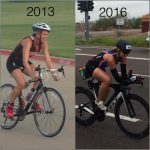 Last summer I decided to get a little more serious – I rode in every bike rally I could get into and hit the hills with Beckley – even though I constantly got dropped. It was demoralizing but I kept getting back out there despite the snide remarks and pit in my stomach every Saturday. Paul would give me all these tips and tricks like he was some kind of expert? But go figure that he was naturally good at cycling?! As he is with everything…Ugh. I was getting it in every direction!! By mid-summer Coach Soria *strongly* encouraged a power meter which has given us a much better metric to track my progress, which unfortunately is still slow… but it's there 🙂 And while I find myself uber frustrated and down sometimes I'm putting in the work and need to recognize while I have a long way to go, I have come a long way.  
As my mom always said when referring to me and my siblings, "God has given us different gifts" and I need to remember that.  As athletes we are all unique, different and struggling with our own personal battles – on and off the course.   And what seems hard today, may be easy tomorrow (fingers crossed!)
'Watts' next in this bike journey?  I'm not exactly sure… The bike is definitely my nemesis and my most humbling athletic experience to date.  (If you don't count that one time I tried to play basketball in middle school! 😉 ) So here I am again with another summer committing to the bike – it's not going to be easy, but I'm facing it head on and full 'speed' ahead!  
Who's with me?  #Bpeeps #committedtothebike #summerriding #faceyourfears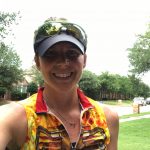 Consider it pure joy, my brothers and sisters, whenever you face trials of many kinds, because you know that the testing of your faith produces perseverance.  James 1:2-3