This morning I had a very early start due to Leadership Frisco (more on that awesomeness later) and I was up before dawn for a "quick" walk at 5:30am…Well, I forgot for a hot minute that nothing is "quick" when you're injured. Actually, I move pretty darn slow. There is no so such thing as a "fast-five" to start the day. As a matter of fact, a mile now takes me about 14-15mins walking … So you do the math – "Ain't nobody got time for that!"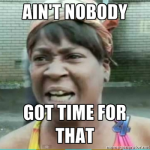 And, I have to imagine I look rediculous wearing a headlamp as a "Walker" through Frisco at the wee hours of the morning? But, if I cared how I  looked most of my running ensembles would be on the black list. (Hence, those HOT pink compression socks? Oh Yeah – don't be jealous!)
And then there is swimming. It takes time to drive to the FAC (duh?)…. but the longest part? It takes me a good 10-15 minutes to talk myself into submerging into the icy cold water! Yep. Wimp.  And, I know the 17-year-old life guard probably gets his biggest laugh of the day watching me tip toe in – making faces the entire time – arms high up in the air wincing. Brrr!! (Btw, shouldn't the Nick Jonas wannabe be in school?) Whatever.
But, if I remember everything – towel, soap, underwear (that mishap happened once too) – I can get cleaned up fast enough to make up some time. I have always been speedy getting ready! Something I'm not sure Paul fully appreciates. A girl that can go wet to set in 30 minutes – we're a dime a dozen honey! 
Working against the clock at a snails pace presents personal challenges, too. I feel very unproductive, sluggish and just plain slow. Not the best way to start my day. Everyone says, "enjoy the down time!" Hey, don't say that to this endorphin junkie that has lost her mojo! Just don't. Although I imagine all of my fast twitch muscles have deteriorated by now and I will appear like Phoebe Running  in FRIENDS by the time I finally get the "All clear"? But, hey, I'll take it.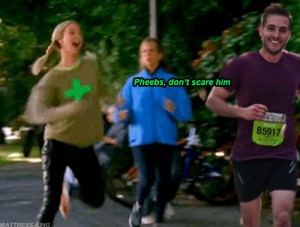 Until then, slow and steady will have to do. After all, you remember the the story of the tortoise and the hare, Right?