Last week I was in Barcelona, Spain for work. Most people hear that and think, "Amazing!" "What a wonderful opportunity!" And ask, "Did you see the sites?" Did you try the Gelato? The wine?"
The only thing that ran through my mind was, "How am I going to train?" And then… "Damn, I'm losing so much fitness!"
Don't get me wrong, Barcelona was simply amazing and I took every advantage of being there (worked my hinney off to boot!) But there was a little voice inside nagging me, "You have an Ironman to train for Jules!!"
Well, over the course of 8 days I just "let go?" Yes, believe it or not I didn't freak over getting just 3 measly runs in! Those workouts were probably some of the most beautiful runs of my life – cannot complain!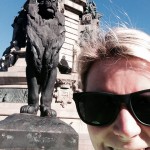 On my first workout, I ran down La Ramblas, a busy tourist area with outdoor cafés, artists drawing on the steets, pop-up shops, a fresh market and gelato every 200 feet 😉 After dodging shoppers and sexy Spanish smokers, I made my way down to the Mediterranean waterfront. There were more people out walking and scoping out the boats coming in and out of the dock. I didn't linger long before I quickly turned back to make sure I could remember my way back to Plaça de Catalunya square… Runner vacation tip #1 – Out and back routes are best when exploring new areas!
The next day I got a new route from my boss to that went up to the Palace. Again, being directionally challenged I was a bit nervous but gave it a try. I made note of each and every landmark that I passed …
The route went past Barcelona University and I saw a lot of students out – even on Sunday morning which was fun. (Much different than the walk-of-shame Sunday mornings around these parts! hehe!)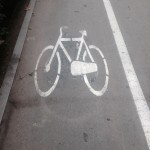 I continued on this LOVELY open run/bike lane all the way to the old bull fighting arena and Palace. At the "roundabout" I turned quickly around and made my way back to the hotel – nervous to go much farther. Later I learned that I completely missed the awesome stair climbing available just a bit past the square- next time!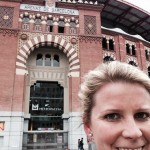 The rest of the week was a blink, a whirlwind at our biggest show of the year! So, when Friday came we were all exhausted, but I was in desperate need to pound the pavement again after 5 days off!
That morning I headed off on my final run of Barcelona through the high end commercial side of town. I ran past Tiffany's, Gucci, YSL, – you name it. But all these modern shops were rooted in these old historic buildings – just beautiful! I ran maybe 4 miles through town just taking it all in…
I knew coming back to tri-training would be a rude-awakening (and it has been!) But, sometimes you just need to LIVE in the moment… Am I Right?
Vive el momento!