Every day I thank God for the gift of running… The gift of being able to do something I love and for literally being able to start each day on the right foot.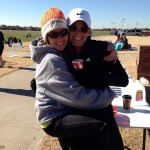 But more importantly I praise God for the people he has brought into my life through running and triathlon. These friendships are now some of the ones I hold most dear… Runners just get each other on a level your husband, your co-workers or your childhood friends will not. I wait all week for Saturday to endure the elements, log miles, and laugh through the pain with my runner peeps. (Plus, there's usually coffee too –  bonus!)
But there's one special gal who stole my heart (I think she actually swept all our hearts!) but I claim her as my run bestie. I met Bridget back in the fall of 2012 through Frisco Running Club. I had just recently joined (or re-joined) and was training for my third marathon at Marine Corp at the end of October. She was getting ready for her 9th or 10th marathon that spring – Mountains to Beach in May. She was our group's veteran runner and showed us the ropes with proper training and nutrition. Before this, I was more of a "wing-it" kind of runner. I still am today some would say…but she helped tame my wild hair and helped me to pace and be smarter about my running as a whole. Larry, Jimmy, Jeff and everyone in our group were smitten. 🙂 She had everything down pat and trained like a champ – she was such a strong little athlete (and I do mean little!) However there was something… when it came to race day, her nerves got the best of her. Even at a 5K her stomach would get queasy and would compromise her race.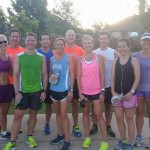 It broke my heart to see this happen so we began to work together – and I do mean work! Any athlete from any sport can tell you that preparing your mental game is not an easy feat and it takes more than just 'a bunch of workouts' to put it all together. I trained with her and watched her race locally,  seeing her get mentally stronger each time she was out there. She worked harder than most people I know! It took some time, but it was was happening…
I'm happy to say, 3 years later Bridget crossed the finish line at Houston with a Boston qualifying time! Earning a BQ is every runners dream – and she achieved it, all on her own, running her own race. She was prepared, strong and confident. That morning at the start line she had this twinkle in her eye – she knew she was going to to do it – and that it was going to be her day.
As we stood in corral B all bundled up with hoodies and gloves she looked over at me, "Jules, if you think you can qualify too, I want you to go for it. I want to go to Boston with you. Please!"
I just made a face that said, "are you crazy?"
This wasn't the first time she had said this over the weekend, but it was the first time I really believed her… I looked over, lips blue and rubbing my hands together and said, "You know I haven't really trained, no long runs, etc! It would kill me!" She just smiled, shook her head and she said, you can do it, you have another level, just do it."
Those words played throughout my head as I raced out of the start, again as I sweated through my hoodie until 13.1 where I would finally leave it. Then again as I struggled at 17 -choking for air – questioning myself and my pace for 9 more miles? Then "just do it" popped in my head again as I approached mile 21 – during those last 5 miles where my paced slowed north of 8:10… "Do it for Bridget" I murmured under my breath as I came into town and heard the finish line cheers ahead. At that moment I thought of where she was on the course and how strong she was -killing it, I knew it!  "Just do it" ran through my head once more as I kicked it up for the final 1.2 – holding on for dear life!
I crossed in 3:32:42. I had done it…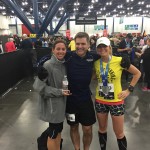 The finish shoot pulled me up and over to the family meeting area not allowing me to wait for her (pissed!) So, I anxiously waited right inside… Paul had watched for Bridget to finish so I waited not knowing results for what seemed like FOREVER. Eventually I used a random runners phone to connect with Paul – she had done it! What an amazing day it had been! BQ's all around!
Inside we waited for Jeff as we split a celebratory Think Thin bar 😉 He was taking his time and digging into the runners buffet (of course!) 'Hurry up Jeff!'
I could not be more proud of my run bestie for what she accomplished and put down on the pavement that Sunday. I always knew she had it in her – she just had to believe she could too!
You can do ANYTHING you set your mind to. Hard work, dedication and believing in yourself… Those are the secret ingredients.
Next up, Boston 2017 with my Bridget!!!