"Every next level of your life will demand a different version of you." That couldn't be more true as I'm fighting harder than ever to conquer this training cycle to get to the IMCABO start line in one short month. My body aches a deep fatigue I've *never* felt and my mind is starting to second guess why – Why am I putting myself through this? What am I trying to prove? What is this all for… and just when I think I'm at my breaking point I have a gentle reminder pop up…
Well, this week I've had a lot of memories come up in my Facebook feed that are very special – My first IRONMAN at Louisville, my first 'real running shoe' fitting at Luke's locker and and my first JLCC social … but one in particular truly shaped the person I am today and started me on this crazy endurance adventure.
Chicago Marathon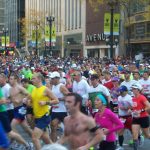 It was a cool crisp fall morning in Chicago –  the kind of day you know will turn warm soon. I was getting ready to race my third marathon and had no idea what to expect of a big city race and stood lonely in the corrals for what seemed like forever.  I wasn't nervous – I had my plan and was comforted by the voice of my coach in my head. "Do your thing, you got it!" This was my first race with Coach Soria and while I didn't completely trust his minimal approach and unique speed work, I went all in.  Like all newbies, I got caught up and raced the first half way too fast against my plan and quickly realized the second half was up to me…  and me alone. I remember replaying "Prove it!" over and over in my head remembering that's what Coach Soria told me I would need to do if I surged early… and I did, like at mile one! Lol.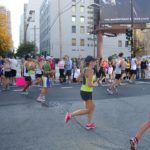 As I approached mile 20 I was in trouble, but didn't know how much. This was the first time I knew real pain, the first time I had to reach deep inside and pull from within – it took everything I had to not fall off, to not stop and walk, to not quit.  I was blurry-eyed, cramping and a little hunched over – but I continued. In some way, it hurt me more to stop than to continue… Somewhere I found another gear and raced with heart, putting everything out on the course. I fought for every.single.step.
And something special happened that day… i pushed beyond my limits and realized a new self confidence and passion for more out of me, more out of life. There is no experience quite like driving yourself to the breaking point of wanting to give up and choosing not to do so …this raw, vulnerable and exposed athlete is exactly the reason I'm drawn to endurance sports today.  It triggered a self discovery that challenges me and and keeps me wanting more. 
I did "prove it" that day – but not for Coach Soria or anyone else, but for me.  Now, I pull from this experience whenever I get to a mentally tough place racing or when out on a hard training day …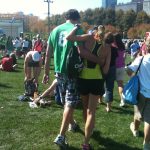 I finished Chicago that day with over a 30-minute PR and a BQ (Boston Qualifying time). It's true what they say, "our bodies can withstand almost anything – it's our minds we have to convince."
So with 26 days before IMCABO, I reflect back to that warm day in Chicago where it all started … I've been to that dark place before, I've pushed beyond my limits and I know the pain well. 

Now, time to get my body, heart and mind ready for it…Again. #IMCabo
After your season of suffering, God and all His Grace will restore, strengthen and establish you. 1 Peter 5:10