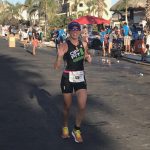 Tuesday marked exactly one month since IMCABO, the toughest race I've experienced to date. My body, mind and soul need a break more than ever… So far I've had lazy days, unstructured workouts, and a enjoyed a few cocktails to ring in the off-season. But so quickly the conversation shifts to 2018 and I can't seem to go anywhere without someone asking "Jules, what's next?" 🙂
I've been tossing around a few ideas but it all comes down to this: Can I put myself and family through another full Ironman in 2018?
Well, I can't wholeheartedly answer that question yet. Although, I'm mapping the calendar with my coach, it's a big decision and I can't bring myself to hit the submit button on the registration page or publicly declare my goal race(s).. Because then I have to start training. Then I'm back in the balancing act. Then it becomes REAL!
While I HATE to admit it, the last training block 'broke me a little'. There I said it. Not only was I starting to lose my mind, but lose my love for all of it! And for me, that's what it's all about…I began to question everything and found myself wondering if this was all worth it…?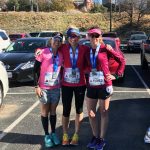 On Sunday I ran the Dallas Half Marathon with a few friends .. we ran for fun taking in all the sights and sounds of marathon day. The loud shock of the gunshot, the silence at the National Anthem, the salty sweat taste, the scent of lemon lime Gatorade and the heavy breathing of runners echoing next to me …And you know what!? I felt more alive and energized than I had in MONTHS!
As I continued to run, I reminisced and reflected back to why I do this.. it's for love of the sport, the love of running, and for the love of the athletes – it's like something released inside me that had been dormant far too long. Almost instantly I realized the appreciation I have for my body and for what it enables me to do each morning. For the people and friends this sport has brought into my life. And for the deeper faith that it instills in me knowing that my journey is not mine alone, but with God.
I felt the sun shining down warming my body as I closed in on those 13.1 miles and knew I was meant to be out there, to discover this passion all over again. It's not always about a PR, a top 5 finish , or a slot…but sometimes it just about being free and loving it out there!! How quickly we get derailed?!
I looked around and exchanged tired glances with those pacing beside me. We all continued with an unspoken friendship and carried each other to the finish line. While I may never see those 2hour pace runners again, we share those miles, those memories and that race day. We are the running community – and it's beautiful thing. Now, you might not understand it if you're not in it, and may have to get back if you've drifted too far… but I encourage you to find it, find your passion.
No matter what 2018 brings, I will take this with me – remembering why I do this, why I love it so much and will give back to the sport that's given me so very much.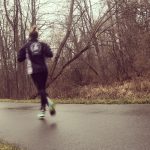 "She is clothed in strength, and dignity, and she laughs without fear of the future."
Proverbs 31:25