The sun was high in the sky and temps were in the mid-80's. The air was thick and each breath I choked in was labored and stale. My legs were burning up – on fire and with each step I was reaching the point of no return on my nutrition – I had been on the course for almost two hours with less than one bottle, now one lap to go! I looked ahead on the course – there were all the females I needed to catch to see the podium and I realized, "The first three laps were just warm-up" – it was GO time!
On Sunday I raced my first duathlon. The Playtri Festival had switched from triathlon to duathlon since the lake was still closed. (Hiccup #1) When I received the news that the swim was cancelled the Wednesday before I almost pulled out. I was not interested in a run-bike-run, that's uber hard! (Plus, I really needed the open water swim practice) But, my coach reached out and encouraged me to continue, "This really plays to your strengths- I know you'll do well! See you Sunday," he wrote. Ugh, I knew I had to be there.
So, I had a little bit of a taper the days leading up and on Saturday Paul and I went to PlayTri for packet pick-up and sign-up. Paulie even signed up for the sprint distance! I'm always impressed when he does these things on a whim, this might of been his first run ever of 2015? (Not first race, first "run")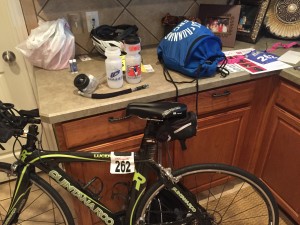 Anyway, we relaxed the rest of the day, prepped all of our gear and packed for our early morning departure to Irving. The next morning, my watch was dead -of course😤. (Hiccup#2) Typical. But, Paul let me use his Garmin and I calmed… And, besides someone "stealing" Paul's Stinger Waffle snack at transition everything seemed on track? As always, it was fun to see all of our athlete friends at the race!
Without the swim we had a rolling start for the run by distance and age group. It was very different? But, I've also never done a duathlon!!
Shortly after 7am, after the open waves and men were off my wave was up. I was more nervous than usual because I didn't know what to expect and didn't know how to pace this kind of 5k? Once the gun went off I settled in pretty nicely and was proud of myself for holding a nice even pace and heart rate. (This didn't last long…) The last half mile I stupidly decided to push my effort to come in with the top 3-5 ladies and was struggling when I arrived at my bike. Yes, already…( Hiccup #3)
I arrived to my bike to find my aero bottle dripping blue Gatorade all down my bike and into my shoes… Awesome. I quickly shook out my "now-blue bike shoes" and slipped them on as my socks soaked up the Gatorade. (Hiccup #4) I didn't let it get to me and I flew out of transition looking at my half empty bottle trying not to worry about dehydration just yet….
Out on the road I remembered my cateye was broken (I immediately started cursing Paul in my head because he is suppose to take care of MY bike, right?!) (Hiccup #5) Plus, since I'm using Paul's Garmin at this pint and its only built for running … I don't have a plan B! So, there I am on the course with no idea of pace, mileage, watts… biking blind! But, I start getting passed like I'm standing still and wonder if it's a good idea I don't know how bad I'm getting spanked? This goes on for the entire 40k bike…
As I come into the end of the three loop bike course I know I'm going to have to do some serious catching up on the run to still have a shot. I'm now dehydrated, cramping and have to do a killer 10k to make up for my crappy bike. Most people would have given up and shuffled in… trust me, the thought definitely crossed my mind. But, then I thought of my dear runner-friend Bridget who is always giving me props for fighting till the end. "I don't know where you get it Jules" she would say. "You fall off your splits and somehow pull it back together" Her voice echoed in my mind. I didn't want to let her down this time – or myself.
I had to dig very deep and pull out every mental strategy I had in the books to finish that 10k. But, somehow I did it? I finished first in my age group and top ten female overall.
I don't think you'll see me at any duathlons any time soon, but this was one for the memory books! Hiccups and all!