Taper is finally wrapping up .. and it's around this time that I start to reflect on my journey, how far I've come and pause to recognize the many people who got me here. I also start to have crazy cravings, get a little restless and have nightmares of oversleeping on race day… but that's for another post!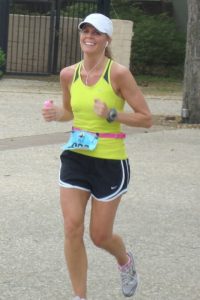 The other day I was looking at a picture of my first marathon. Myself, like many others started training for 26.2 to cross off a bucket list. I sat looking at that naive, bright-eyed blonde girl in the photo and laughed to myself.  Wow, today I'm about to embark on my second Ironman with several marathons, triathlons and endurance races under my belt. Now, looking back at that photo I barely recognize that version of myself? And I'm not talking about the geared-up, poor-formed runner. (Although, that does make me cringe!) I'm talking about the nervous, shy, less-confident girl going through the motions – in life and in athletics. 
Well, I can tell you – things have changed!  Running and triathlon have changed me both inside and out. With each new season and race I gain confidence, perspective and a little something about believing in myself and chasing dreams.  But I didn't do this alone and wouldn't be where I am today without my support team.
It takes a village…
My husband Paul has stood by me through the ups and downs in this sport –  he is the man of my (tri) life!  He keeps me fueled, listens to me (like really listens to me), he's my bike tech, my massage therapist, my bank and most of all… He made me a Simon, and Simons are tough SOB's. 
My sister Jenn just "gets me!" Maybe it's the same genes or the fact that she's an athlete herself but she wants to hear every gory detail of training and racing whether I threw up or stole someone's shoes. She's awesome! We talk through each race together and strategize the next ones. Her encouraging notes each week help me through those LONG training days and she's team Jules all the way.  Everyone needs some Jenn Omo in their lives 🙂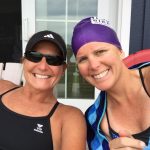 My parents… they may not fully understand why I do this day in and day out (and have mentioned wanting grandchildren soon from us once or twice) but they support me 100%!  As soon as I received confirmed entry for Boston they asked when/where to book their tickets. They are always so proud and want to be part of my journey. (Dad is still trying to catch me on Fitbit steps… all I can say is, keep trying Bruce!)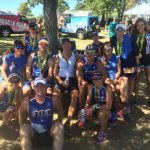 My FTC/FRC family … if there's anyone who understands the fine line between dedication and obsession it's my tri family. We all walk that line every day as triathlon weaves into almost everything we do and the balance and juggling of this hobby becomes wearing. But, I've never been in such a supportive, encouraging and talented group before. We push each other, we motivate one another and we keep pushing towards our goals – big and small. And special thanks to Jeff Beckley who leads our bike group through north Dallas (and what seem like parts of Oklahoma) each weekend even when he's not training for an IM!! #whattaguy  And thanks to my run bestie Bridget who meets me for Track Tuesday in the morning when the rest of the group does evenings. 
My work crew…I can't thank my team enough for putting up with me the last six months training for IMAZ! From arriving to work with wet hair, eating smelly boiled eggs at my desk (sorry!) and the mood swings – wow, y'all deserve major kudos! And special thanks to my (previous) boss who mentored me through the work/IM training balance. I appreciate you all for staying strong with me throughout!
My Girls… thanks for standing by me during training season!!  I know it seems like I've been MIA and single-focused on triathlon (because I kinda have been!) But I appreciate  your support, encouragement, and understanding while I've been dedicating my life to being a tri nerd lately;-)  While I may not always be with you, I know you are always THERE for me. It means the world.  I love you girls.

Coach Soria… Jason always tells us, "Motivate your mind to achieve your goals." I feel like Coach Soria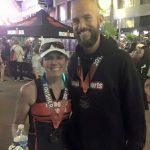 gave me the mental strength to do just that. He believed in me, and I believed in me. Together we achieved many milestones over the last 5 years – a few I thought were completely out of reach! But they weren't – always keep reaching, dreaming and wanting more! He gave me so much more than a few race medals and trophies – he gave me the courage to go after more than I ever would alone.

With each training season I find myself renewed, inspired and discovering new things about myself.  But it's really about the people who weathered this storm and "ran through the rain" by my side that make it all possible. They say there are  "no shortcuts to Ironman"   so I thank each and every person who has helped me on this journey.  I'm excited to see what the future holds, but wouldn't be here today without you ALL..It takes a Village.   IMAZ or BUST!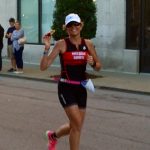 "She will run and not grow weary" – Isaiah 40:31