Before the gun went off for Ironman Gulf Coast 70.3, I reminded myself one last time how unique of an opportunity this was and committed to making the most of it. I looked out to the roaring waters crashing against the shore, and suddenly a calmness came over me as I prayed to God for strength, stamina and safety. Each time we step up to the start line, we have to mentally prepare that it's going to hurt from the start, I knew I was going to have to fight in a new way to beat my old self and shuffled down to the surf …The water hit my face like a fire hose spraying at my head – my goggles slipped down and I spent 1.2 miles trying to navigate through the wicked waves. But I wasn't alone … 2,000+ other athletes fought a tough swim (red flag conditions)!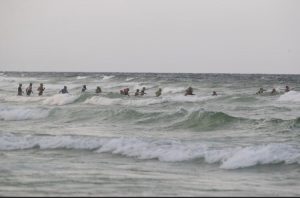 Out on the ride I found myself enjoying the bike and passing people (instead of being passed!) Such a change of pace for me? Lol. The wind presented challenges, but we are from Texas, and I was ready for it!
On the run, my legs started screaming at me louder and louder with each passing mile. I stopped looking at my watch and just focused on covering ground as smoothly and efficiently as possible. Doing my thing, in my happy place 🙂 Triathlon has a way of bringing it all out out of you at the finish line… as I crossed, I knew I had given my everything and collapsed into the catchers…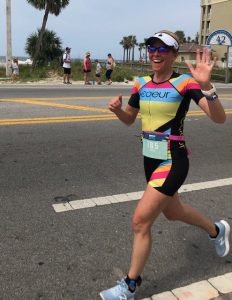 A lot of people look at me smiling, see my race and think I must have had the proverbial 'perfect race' – ha! That couldn't be further from the truth. First, I don't think that exists – but when that gun goes off and it's time to race I tell myself excuses are over. The day becomes a CONSTANT exercise in problem solving because it's not if something is going to happen, it's WHAT? I could go through the list of things that went wrong from the buoys missed, to chafing/bleeding, to dehydration/cramping – or migraine the day before,….But you all would reply 'I've been there' – bc we all have! There's no easy IRONMAN/70.3 – that's why we do this. It's the thrill of the chase, the rise of the challenge, and the excitement of each unique finish line.
So, whether you're competing in a 5K or an IRONMAN, when it comes down to it, it's just a constant 'think on your feet' kind of sport. If you find yourself in a tough spot, rely on your experience and intuition to figure out how to make the best of it… and stay positive!
Going into this race, more than ever, I didn't know what to expect? I was feeling vulnerable and insecure about not being physically ready. But at my pre-race meeting Coach Tommy crossed off part of 'my plan' and said, 'just race how I know you can and have fun' … it was at that point a switch went off and I got my mind right – decided to just enjoy this experience with my Paulie!! Seeing Paul on the course lit up my soul and gave me a lift I simply cannot describe. I was running on clouds and the pain dissipated as I carried on to the final run lap… I was having fun, all the things going wrong didn't seem to matter?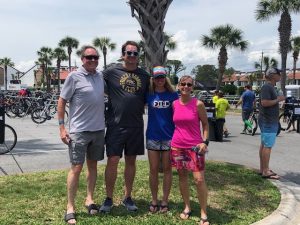 This was my first finish line without Paul hanging over the barricades yelling for me, since he was still on the course – but Dustin and Gerald pulled me in over that line (and all day!!) with their cheers, high fives and encouragement… couldn't do it without them! What a Sherpa crew!! After crossing I had a short stint in the IM med tent where Dustin came to me and Gerard RAN back on the course to Paul, Kathi and Randy. I kept asking for Paul and trying to get up and Dustin was like 'STAY DOWN – he has another lap! I'm tracking, we're good.' Once released, Dustin 'put me back together' and hobbled me to finish line to wait for Paul… 'He's coming' shouted Gerald from up the chute. Dustin pulled me up and we watched my baby come into sight from the distance – my eyes immediately filled with tears. He looked so happy, strong and determined!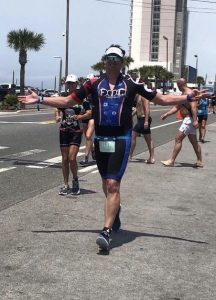 Paul ran by giving us a nod to acknowledge our cheers and jogged into his first IRONMAN 70.3 finish line – a moment we'll never forget! I couldn't be more proud of this man and everything he's accomplished this year coming back from the bike crash. He's one of the strongest, toughest and most dedicated people I know … and something tells me this is just the beginning!
We celebrated with burgers, beer and fruity cocktails in the finish area after cheering in our friends Randy and Kathi – successful day for all! It wasn't until we were on round two at the pool that Dustin looked up the results for Paul and shared that I was 5th place AG! I was in shock. I was going to squeeze on the podium?!
Awards and roll downs took forever- big thanks to our crew for WAITING in the Florida sun all afternoon to see me for 30 seconds:) We were all fading fast and needed FOOD so Randy, burger expert, took us out for the best burger in Panama City Beach on the pier! Then a little taste of Michigan with Kilwin's ice cream and fudge! Fabulous way to end a great day!
Remember there is no perfect race – it's about execution, effort, and fight. Your best day is determined by how well you handle the adversity throughout the race. Next time you step up – in life or athletics -ask yourself. 'Am I ready to give my best today?'
Isaiah 43:2 When you pass through the waters, I will be with you; and when you pass through the rivers, they will not sweep over you. When you walk through the fire, you will not be burned; the flames will not set you ablaze.