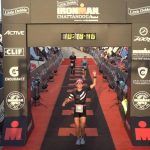 After pulling myself together and jogging over the last bridge, I began to hear the finish line cheers echoing through the streets. A wave of relief came over me, more than excitement, as the pain in my legs quivered and shook with each step. I was hunched over, struggling for every breath and wincing from the pain. My smile was now forced as I tried to keep the nausea and dizziness at bay – my body breaking down more with each step. Finally, I turned the corner towards the red carpet and thought to myself, 'Jules you finally made it!' The last 4 miles felt like an eternity- the biggest athletic fight of my life, or so it seemed, but I was here now. I took a deep breath, wiped my tears, prayed to our God above and started down the chute with slow steady steps – gratitude and joy filled my heart as I saw the crowds of people cheering. Suddenly, I felt my body walk on air towards the finish – for a moment, the pain was gone. I knew without a doubt, with each step I took that it was all worth it – every early swim, every six hour ride, every tempo run … even the way I was feeling the last few miles – everything! The magic was real! Within a few strides I locked eyes with my sister for a brief second – she was so proud – and I ran towards my fourth Ironman finish. As I approached the arch I punched my hand high to the sky as excitement shivered down my body and hands came to my heart thanking God for this beautiful moment as tears filled my eyes… "Julie Simon, you are an Ironman!"
Upon crossing the line I immediately collapsed into the 'catcher' and my legs started seizing uncontrollably and I started the body shakes. I was wheeled to medical where I was treated for severe dehydration. I definitely put it all out there, gave my all…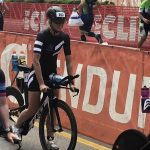 I've never been a person to think that just because someone has a better PR than me that they're going to beat me. I think that it's important to have belief in yourself and your capabilities every time you step up to the start line. You have to believe that you're going to do something great before it actually happens. Mentally I was ready to do something great in Chattanooga- despite the life hiccups weeks prior, I had my head in the game. And my coach, Tommy Johnson, had me physically and mentally prepared more than I had ever been before…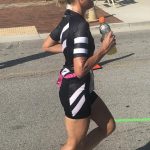 But in the words of Mike Tyson, 'Everyone has a plan until they get punched in the face' … and the Chattanooga course threw a few punches. Especially those last 4-5miles where I found my legs cramping and locked up to the point where I could no longer move forward. I felt my race 'slipping away' and I think that hurt worse than the excruciating pain that left me collapsed on the pavement by 25. My legs locked and spasmed uncontrollably as four other athletes stopped and helped me get control and back up to walk/run/limp to my finish. One gal stayed with me and fed me salt until I could get going to the finish line … that's one thing about this sport I love most, the teamwork and support for one another – it's simply amazing!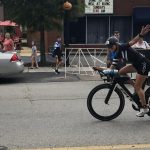 The day started with a rolling time trial bike start (did I mention the swim was cancelled?) So, depending on your bib # your start time could have been as late as 10AM! Luckily, with my low bib #263 I was off by 8:45AM- a similar time if we would have had a swim. But logically this was a bit challenging for all the type A triathletes like me- 'What about my Bike gear bag?' And 'Does transition ever close then?' Or 'When do I eat now?' The major benefit was the additional sleep – I literally slept right up to 6AM and my alarm had to wake me for bfast #1 🙂
In addition, several athletes went out way too hard on the first loop of the bike course thinking they had extra gas in the tank because of no swim leg – plus all the adrenaline is going! I tried to be aware of this, but it was challenging to manage effort when feeling so 'fresh' 🙂 BUT… the second loop definitely caught me too …the hills seemed steeper, longer and my body wasn't liking aero anymore. My neck and shoulders started to ache and my hip flexors started tightening terribly… despite the issues arising I was staying fairly consistent and right in the power zones Tommy and I discussed. Yet, I was nervous I was overriding so tried to pull back a bit heading into town… I wanted to set myself up to run well! And I know the Chattanooga course is only 4 additional bike miles, but 112 vs 116 mentally hit me as I really wanted to go under 6hours for IM bike but hit 6:05. Averaged ~19mph with ~5,000 ft climbing – so still major gains from my first IM bike in Louisville 2015 which took me 7hours! 🙂
I was so excited to get off my bike that I think I chucked it at the bike catchers – even forgot to stop my garmin, not like me?! After almost hopping into the men's changing tent, I bee-lined for the ladies and got my running shoes, belt, visor, shades and headed on my 26.2 mile journey…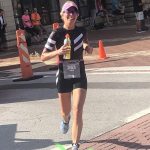 The marathon is my first love, and it shows in my running … the allure of that 'almost too far' distance intrigues me and the run itself – simply powered by your own will and two feet is something truly unique in sport. It captured my heart years ago and will forever be my happy place!
The first mile out of transition was a steep uphill – gave me a taste of what was to come 🙂 But I was ready for this.. Coach had me running tarantula loops in Celina with the best training buds, Bob and Stephanie, so I just envisioned another training day as I tackled each hill. The plan was to drop the large Gatorade bottle by the 5k mark, but I was soooo thirsty I held that thing like a security blanket! I should have taken this as a sign that I was in a little bit of trouble, but just continued on refilling it 2-3 times guzzling as much as I could get down. I felt good, really good, (until I didn't!) By 19-20 I had slowed to 9:00/10:00 min miles because my aide station walk stops became longer, more critical – this was the beginning of the end 🙁
I had passed by several Dallas peeps who lifted me with encouragement (thanks guys!!) and was coming up on Beckley on the infamous Barton avenue hill… he looked so happy, strong and killing it! I told him I was starting to cramp and within a mile I was down in the grass grabbing my legs as they pulled up towards me in varying directions – I was trying not to cry and appear weak but I was fighting the tears as hard as I was fighting my legs. I've never been sidelined like that before – almost out of nowhere?! A lady helped me get going again – pumping me up with inspiration and comforting words 🙂 I proceeded on with my legs twitching and nausea setting in… I couldn't believe what was happening?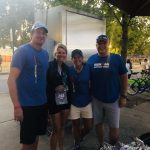 But my support crew was simply AMAZING! They were everywhere along the course with all the right information- I can't thank them enough for lifting me up out there when I needed them most. Paul, Jenn and Chad literally split up my last 4-5 miles (jogging to various mile markers) to help pull me in as I was losing it. Paul got word that I fell apart after coming down Barton and jogged down there and helped me back up with his 'tough love' 😉 He claims, he's never seen me like that before – and not sure I've been to such a dark place either? Chad found me on the bridge after the pavement came up and grabbed me at 25 and followed me a bit to make sure ok to finish where Jenn was waiting at the chute. Seriously, Not sure what I would do without them? My heart is so full!
I often race above what my training suggests, I take risks and I put it all out there. Knowing myself, if I were to do it all again I would probably blow up on the second try too… you know why? I'm always pushing the limits! I never want to get to the end off a race and think, 'I could have done more?' Or feel like I still had gas in the tank. So, each race is a learning experience- and I've gained so much out of IMCHOO!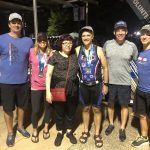 So, no matter if you're charging out front, hanging off the back, or buried somewhere in the middle of the pack out there, you gotta FIGHT for YOUR personal best! There's something about embracing this approach to racing that stays with you far beyond the finish line and into everyday life. When I'm in an Ironman, I see it as a massive honor and privilege to be out there, and be able to physically do it, and complete it. There's something glorifying about pushing yourself over and over to the dark side and crossing over to see the glorious light.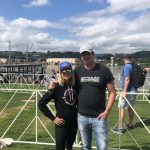 It was an amazing day and I feel incredibly blessed and thankful for all the people who supported me on this journey!
It certainly wouldn't be possible without my amazing coach unlocking potential within me, my training buddies for always going the extra mile by my side, my work family for their understanding during the season, my husband for his unconditional love and support and all the teammates, friends and family who have supported me every step of the way! Love to you all!
What's next? Stay tuned…
Be strong and courageous. Do not be afraid; do not be discouraged, for the LORD your God will be with you wherever you go." Joshua 1:9