As one of the largest sanctioned century bike races in the US, Hotter than Hell brings in 14,000 cyclists to the small town of Wichita Falls, Texas each year.  Riders prepare all summer to take on 100 miles of heat, humidity and wind – just to say they crossed the "gates of hell" and finished the infamous Hotter than Hell race.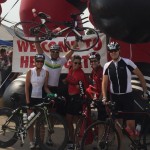 If you recall, last year I did this race and barely made it through – I had only been riding about a year (little over) and my longest ride at that point was maybe 60miles? I struggled. Like really struggled. I ended up in the med tent and was damn near delirious for the remainder of the day. So, needless to say, I was a bit nervous arriving to Wichita Falls yet again…
We left from Savannah at 3:00am and didn't get far down the road without a stop at Whataburger, of course! The boys were jones'in for some tequitos so there we were… Waiting for "fresh to order" crap food in the middle of the night. At least the entertainment was good, some hilarious drunk restaurant-goers took a quick yak outside and then got back in line to order! Well, not much different than endurance athletes, really? Stomach issues. We get it.
Back on the road. Wichita Falls or Bust!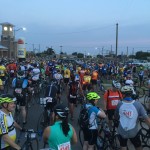 We arrived with plenty of time to get parked, checked-in, eat the buffet breakfast (yes, boys needed to eat again!), unload our bikes for the day and get to the start. The start line was a massive cluster and there were riders of all shapes, sizes and walks of life. A lot of good people watching! When the gun went off I was in the potty (shocker) and I could hear those dudes yelling my name from the port-o-John. "Jules, hurry up we're starting! We're leaving!" They were messing with me. We sat for another 15 mins before pushing off… Plenty of time. Thanks fellas.
The first few miles we all got separated and  tried not to "bump" any other riders – everyone was packed in like sardines! You couldn't risk a "look back" because there were so many quick stops. Every man for them self!
Eventually we got out about 15-20 miles and synced up together where it cleared out a little. Paul and Larry already decided on the 100K – they were feeling good! It was going to be a great day for all! Or, so we thought…
We hit mile 25 and Paul and Larry took the peel off for the 100K route and Hamlin, Zach, Jeff, and I kept on for the 100mile.  We were coming into the first major aid station -Electra, Texas – so the bike traffic started to slow. We were planning on stopping here anyway so we were moving over to the right. Hamlin, Jeff and myself were all together and Zach was about 100 yards behind chatting with another friend.
Some idiot quickly swerved right – right at Hamlin, taking him down, Jeff down and me (behind) over the top of all of them! Luckily we were only going about 14-15mph at this point but we still hit pretty hard.
As I'm flying over my bars I'm thinking…"oh no, my BIKE!!" Just as my body slams against the pavement. Ouch.
"What the hell were you thinking?" Hamlin shouts at the other guy. He doesn't respond and simply picks up his bike, shakes off and rides away.
Meanwhile, we're all lying in the middle of the road – bikes intertwined together, water bottles flown everywhere, trying to get up off the road. Zach arrives and immediately helps me (well my bike!) At first glance QR looks ok besides a scratch or two.
"Get your bike to the tech" Zach almost yells at me. Everyone is revved up and pissed at the dude who caused the wreck. "Great, I think to myself… We JUST started and they're all pissy!"
I start to walk my bike up to the aid station with road rash starting to bleed down and realize I can't grip. My wrist is jacked. "Dammit!"
At the aid tent I learn that Hamlin and Jeff are worse than me but we all decide to press on. And, like right away! "Jules, you good?" My bike checked out ok and we were on our way… Aero position was most comfortable with my wrist and I made it work for 70 more miles!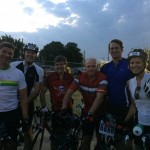 I've been riding for about two years (and if you follow my blog you know I suck) and I'm happy to say that I was able to hang with the guys for the first time ever on Saturday. I know, pick up your jaw! Maybe the guys were hurting from the wreck, maybe Hamlin finally taught me to ride?  But it was a good day!
So, HHH was 100 lovely miles of the guys yelling at me to pull, hold your line, fuel, and "pick it up" … Nice little Saturday. 😊 They push me to be better, do more and keep reaching – I don't know where I would be without them?  I mean, what kind of friend would brick a 100 mile bike rally with you… and barefoot?  Thanks Ham.
And speaking of always reaching. So proud of Paul and his impromptu 100k ride with Larry! Maybe it really is 90% mental, 10% skill like they've been telling me all along?