Hotter N Hell Hundred sure lived up to it's name!  It hit a steamy 102 degrees by the time we "rolled" back into Wichita Falls for our group finish. We started at 7am covering the 100mile course in approximately 7hours – finishing at 2:15pm with a 16.5mph average.  Not too shabby for a girl who hasn't rode over 60 miles – ever! Ambitious, yes. Stupid, probably.  
We left early Saturday morning  (or really late Friday night?) Nonetheless, at 2:30am we were loaded up and headed west! 
After many cups of coffee we arrived and got checked in. The boys were getting everything ready and digging into their breakfast but I just wasn't hungry. I forced down some natural peanut butter and gluten free crackers, maybe two bites of a banana? But, it all felt like lead in my stomach. "Ok, that was it – I am DONE with breakfast.  This will have to do" I said to myself.  
When we lined up there were bikes and dudes as buff as Lance himself for miles! Not to mention bikes worth as much as my Jeep! Holy cow! Now, I was getting nervous! "Am I going to make it 100 miles? These people look really serious?" And "Please Jesus, don't let me crash!"
Before I knew it the national anthem was done, the fly over was complete and we were starting to inch forward. "Ok, here we go – you ready?" said Brent as he looked back at me, an encouraging smile on his face 😉  "Yes!" I  shyly said as I looked down at my bike as if to say, "don't fail me now QR!
The next 30 miles were so full of people I just stayed right on Jeff and Brent's wheels trying to not make any sudden movements. Zach and Jason were up ahead a bit – just out of sight. We made our first stop at mile 30 – Electra, Texas – and I got my first taste of the awesome aide stations!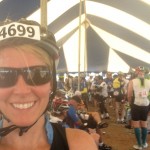 There were bikes and people everywhere – it was hard to maneuver around and keep with my group. But, it didn't matter – we all scattered to gather up some FUEL!  The tent had giant trough-type buckets full of ice water, iced gateroade, iced down fruit, cookies, bars, pickles, pickle juice, and more! Volunteers were everywhere helping you hold your bike, pour fluids in your bottles, and assist you medically or mechanically (if needed).  I was duly impressed. There were stations set up about every 10 miles or so.  We stopped at aide stations 30, 60, 82 and 90. All much needed as you can imagine! 
I felt very strong the first 60 and would venture to say even after the first 80 given the support of the guys and aide station stops. And, with this being my first draft legal race I enjoyed the extra watts I gained along the way 😉
But, after mile 80 I really started to struggle. I would equate this to the last 6miles of a marathon. But, add an 18mph headwind, 102 degrees and the feeling of a stick going up your butt —  thats *a little bit* different recipe for misery!  The headwind heading into Wichita Falls was brutal – I couldn't hear anyone around me and I just kept my head down trying to push down the pain creeping up in my head and ignore the heat beating down on my skin.  At this point, I could feel my body starting to break down a bit.  I knew it was going to be a fight to the end.  As we approached "the city" I felt this sigh of relief run through my body knowing I was going to make it.  Just a few more miles.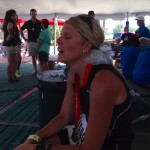 Brent, Jason and myself turned the corner to the finish line and I felt absolutely elated crossing that line.  100 friggin miles baby! I couldn't wait to text Paul and my sister, Jenn, to tell them the news.  But, I couldn't — I was in a complete daze.  (I didn't even stop my watch!)  I dropped my bike (hello, someone could just steal it?) and went to the aide tent with Jason.  We iced down and tried to hydrate.  I was completely depleted and in rough shape.  But, that was just a small dark spot on an overall awesome day.  Would a better breakfast have helped?  More fluids on the ride?  Probably.  Live and learn!
It wasn't long and we were getting packed up and executing on our plan to Whataburger – which the guys had been talking about since about mile 5!  We definitely earned it and even had a celebratory cheers to our hard work after scarfing down!  I know I couldn't have done it without these guys – they are like brothers to me and I'm so thankful they let me hang around 😉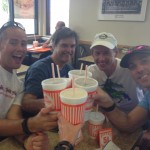 Oh, it wouldn't be a jules event without a few hiccups:
One word – "Sunblock"
Decided it would be a good idea to bring a chocolate ThinkThin bar along — yep, melted into soup.
Definitely ran into another dudes $6k bike at the first aide station – Bump.  This is where helps to be a girl – He let me off easy! (no cussing for fist fights)
Got yelled at (by other people) to "get in line" — Didn't even know what they were talking about? #Draft
Over-lubed my chain!  (you might ask, can you ever over-lube? yes, you can apparently)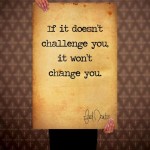 16.5mph
100 miles
7 hours, 18 mins
3600 calories