If you knew me in my past life you wouldn't guess I would be excited to trek through the woods, white water raft or kayak through the icy lakes of Glacier National Park, huh?  Well this designer-denim lover, handbag fanatic and acrylic nail Chica has changed a bit 😉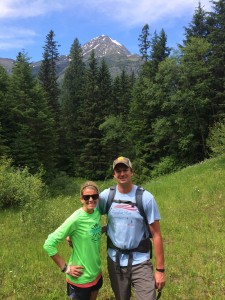 On July 1st we flew to the Pacific Northwest to start the Simon Family Vacation.  Paul's folks recently relocated from Michigan to Spokane, Washington so we connected there before starting the official vaca at Glacier National Park.  We were expecting much cooler temps…. But of course they were having record highs!  #figures   So, a quick trip to Target for t-Shirts and shorts and we were back on our way.  I had literally packed gloves and an ear band expecting lows down in the 40s! Not so much…
So, after a few LONG days of traveling (that I soon rather forget) we arrived at Glacier.  We did a little exploring and dinner but all I could think about were all the bugs!  Julie and myself (yes, my sister-in-law is Julie Simon too!) were getting eaten alive!  We learned hard the first night and then got the hard stuff – with DEET!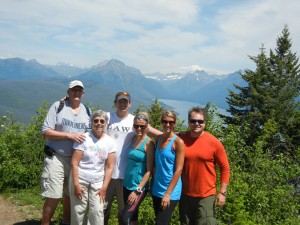 The next morning I wanted to start off with a run as usual, right?  Paul was like "no, that's not a good idea.  We're going to be hiking all day.  C'mon, just take a day off Jules!"  Reluctantly – and probably with a side eye glare – I said, "fine!"  Well, as it turns out that was a good choice.  That day we hiked for over four hours up a very steep sunny mountain.  It was quite a hike – no pun intended!  We ran out of water and were all dehydrated and exhausted.  And you know what?  The worst part was the downhill!  Let's just say I had trouble walking to dinner that night.   Later that day we also went kayaking – but it was a poor performance on my part.  I was D-O-N-E.
The next morning we were off white water rafting – Paul was psyched!  We all had to put these very attractive wetsuits on since the water temp was 43 degrees – FREEEZIN!  Let's just say that was a laugh in itself.  Especially since they gave accidentally me a child's size wetsuit and I couldn't get it past my knees! Yet, Paul's family cheered me on to "keep pulling harder!"  I finally gave up – jeesh!  (I wondered why mine was a different color?)  I suited up in an adult size and eventually we were on our way.  We all got soaked = great trip down the river!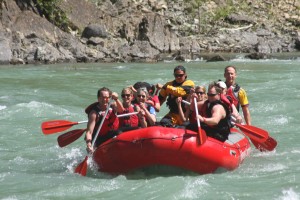 After rafting we were hitting the trails again.  After almost dying of dehydration the day before we decided to opt for a wooded shaded trail this time.  It was beautiful – I felt like I was in a chapter of Twilight with Edward whirling through the treetops above.  I think I spotted him a few times but that might have been the exhaustion and delusion? Anyway, we crossed a couple creeks and streams and definitely had to maneuver around a lot!  I put my first pair of trail shoes to good use – they were completely soaked and muddy!   We went on, and on and on… five hours on these trails!  By the time we finished and I got to dinner I could barely get up to go to the bathroom – I was so stiff and weak! (Don't worry, I made it to the potty.)
So, no official rides, runs or swims this Fourth of July holiday.  But, talk about an active vacation – I wouldn't have it any other way!  I loved our trip out in God's Country! #glaciernationalpark