Life has been a little crazy the last few weeks and I feel like I haven't been able to catch my breath! Sometimes I can't remember why I do this to myself? Pile on, and on, and on….
The laundry is heaping up, groceries are going bad in the fridge and our dogs are the "smelly kids" in the neighborhood :-/
And I can't help but wonder…is the grind worth it?
For perspective, let me go back a few weeks to tri camp…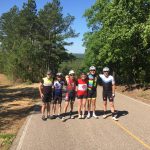 When we think of camp we have flashbacks of playing in the lake, s'mores by the campfire and singalongs – right?  This 'camp' was a bit different but if you ask any triathlete who attended you would get the same response as any 12-year-old at Sky Ranch – "time of my life!" 
I signed up not really knowing anyone but jumped in feet first.  Something inside me told me I needed to do this.. later, I learned why. So with the need to sharpen my skills and kick off my tri season, I carved out time to head to Arkadelphia for Triple Threat Tri Camp! 
I learned that Stephanie Mello from FTC was attending so we traveled to Arkansas together – luckily, we share the same love for 80's on 8 so it was a quick trip!
The first day we did bike and hill repeats. (Nice way to break us in, eh?) The hills in Arkansas made Windhaven look like an anthill! I was pushing 200+ watts and going 6mph – no joke! Next was run hill repeats on tired legs – Coach Kristen and Coach Lawrence really tried to work on me running well DOWNHILL- something I haven't focused on before. Later we had a transition clinic and supersprint tri where we 'put it all together!'
The afternoon was nutrition seminar and goal setting with Coach Tommy. The room was filled with athletes of all levels and everyone opened up and shared their strengths, weaknesses and next steps. It was such an inspirational time for all… just what my heart and mind needed.  I had been so distracted (and a little down) since Boston.
The next day we had our long ride where we tested our nutrition strategy. Tommy and I found ourselves in Hollywood… Arkansas! And I rode with two other amazing athletes – Bob Scott & Jonathan Percival. Bob has been an athlete is whole life as a collegiate athlete on Standfords Football and Baseball teams back in the day! He also did Triathlon when men wore speedos to swim, bike and run 😉 He's full of stories, knowledge and wisdom! Jonathan just started his Triathlon journey this year quickly jumping 'all in' as he's trying to push his limits and wants more for himself as he hits a milestone birthday this month. He's also the biggest vegan foodie I've ever met – keep on keeping on! Each person I met has their own story and reason for being out there grinding when most people are brunching on the weekend… but it almost always comes down to self-satisfaction, the will to succeed and wanting more for yourself.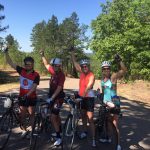 Each one of these campers and coaches inspired me in their own way.  Not only are they talented —  they're dedicated, tough and motivating.  Each of us went a little further than we thought we could because we had the power of each other, the power of teamwork.
That weekend I got much more than a couple BIG training days , but I got 20 new tri friends, a new spark in my heart and a renewed sense of why I grind…
"Be great. You never know who you're inspiring."