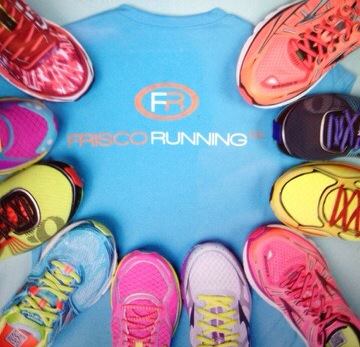 There's a new running shop in town!  The Frisco Running Company had their Grand Opening Saturday, April 11th.  They kicked off the day with a demo run by Newton Running and 2XU compression.  Next, was a Frisco Running Club social run and a ribbon cutting ceremony at 10am with breakfast by Einstein Bagels.  The event continued with drawings for shoes, gear and accessories – even lunch by My Fit Foods.  But, the best part? 15% off everything!
The place was packed!  Which doesn't say too much since it's a tiny shop but people were coming and going the entire time I was there. Hello Foot traffic! Shoes are arranged on the wall by brand then by type – Neutral/ Pronate.  Not sure what that means?  Get over there.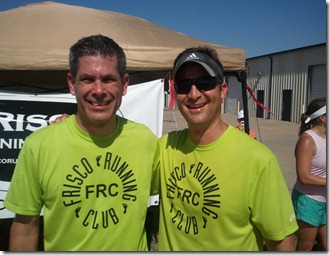 The owner, Dr. Korpinen, a podiatrist and runner himself has kept runners "on foot" and healthy for 15 years.  He believes the right fitting shoe can alleviate many foot and ankle problems.  Whether you are new to the sport or a seasoned athlete, it's always good to get an assessment to make sure you're not running your way to injury…
Dr. K wants the Frisco Running Company to be a real "hub" for the running community and has partnered up with the Frisco Running Club – my club!  We are excited to work with such an awesome partner.  Oh, and did I mention you can buy our Frisco Run Club Gear here, too?