The road to Boston can get a little bumpy and while I'm feeling pretty beat up, there is no journey sweeter as I envision approaching Boylston street again. Every runner knows, there's only one Marathon that has the allure, history and magic like Boston. Well, its been four years – four years since my life changed forever on April 15, 2013.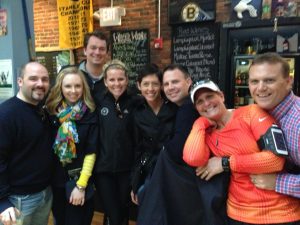 To say this training cycle has been emotional is an understatement.  And with one week to go everything is boiling to the surface again…. I remember like it was yesterday, yet it feels like a blurred dream at the same time. While the day of the bombings was a tragedy beyond measure, I never saw my family closer than it was that day. We stood in the Omni watching President Obama address the nation and I recall the way my family and Paul looked at me – so thankful they had me by their side.  Sadly, others were not as lucky. Paul put his arms around me squeezing just a little tighter and my dad just kept looking at me with a soft smile. While many would say it was scary and unfortunate to have my whole family (plus Dustin & Lindsay) with me and put in danger at this race, I think it was perfectly imperfect. We needed each other that day – and we learned just how much.
Following this attack, we never had the running community come together and uniformly stand strong – #bostonstrong – as we witnessed in 2013. Every club around the nation campaigned, supported and showed an outpouring of love for those affected and stood by the city of Boston. It was simply amazing.
After these events, like many runners, I was fired up to go back and run 2014! I had re-qualified that day, but only by one minute which was no longer enough with the flood of qualified runners the B.A.A. received. I was devastated and told my coach I would do whatever it took to get back… I believe my exact words were, "I want to PR the sh*t out of the marathon!"
I approached my 2014 training with all I had – running almost everyday with a lot of speed, hills, tempo, distance – the works!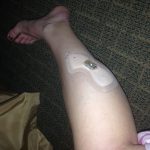 Well you guessed it, I got injured. Long story short – I kept trying to come back and still attempted to run the qualifying marathon I signed up for, the Virginia Beach 26.2 and ran with a torn calf muscle (big mistake!)  Finally,  my coach was like, "shut it down- STOP!"  
A Triathlete is Born
I finally listened but was more depressed than I had been in my life – a very dark place. The thing I loved most was taken from me and my dearest friends were no longer part of my week. And Boston, well forget it! I remember so vividly Coach Soria saying, "We're going to get you swimming and make you a triathlete."  Little did we know the swim wouldn't be the big hurdle, I sucked the most at the bike! But I started swim workouts for six weeks and then added the bike (which was very humbling) and we aggressively added Austin 70.3 on the calendar for October 2014 – and with almost no run training.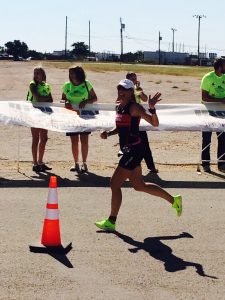 Come October, I finished my first half Ironman in 5:48 – and I even had a strong run!? I was hooked and immediately asked to sign up for a full. You've heard me say it before, but there is something about the Ironman that pushes your body, mind and spirit to a level you can't get with anything else. In my opinion, you can't even achieve this bliss from the marathon (which was my first love!). And while it scares me to say it, if you asked me today, I would probably say I'm a triathlete. I'm a triathlete.
God has plans for all of us and we must trust in Him and be patience in His timing. My journey has been full of ups and downs but there is no place I would rather be than right here.  I am so blessed with the family, friends and coaches who support me in this life! So, wherever you are in your training phase trust that there is a purpose and a plan.
With a one week to go before the roads of Boston and I meet again, I pray over the field of runners, our spectators and the entire running community. Lord, may you be with us stride for stride.
Test me Lord and try me, examine my heart and mind. Psalm 26.2
*The Boston Marathon airs live on Monday, April 17, at 8:30 a.m. EST on NBCSN, and will be live streamed on NBCSports.com and the NBC Sports app.   I'm bib 16716 – wave 3, corral 2 — starting at approximately 10:40am.
Previous blogs: