This weekend I went for my first 50 mile ride ever. (53 miles to be exact – yes, I'm counting those 3).
On Friday I got the sweetest text messages again from the guys encouraging me to get out and do my best. "Don't wuss out – you better be there. We're going 50." I literally replied, "I'll go until I can't!
So, Friday night I nervously carbed up with gluten free noodle soup and tried to go to bed early. I tossed and turned – just couldn't sleep well. I kept getting mad at myself thinking, "You have to ride for 3+ hours – you need to sleep dammit!" Losing fitness has made me weary of long workouts with the group – getting dropped sucks.
After a mini shot of NyQuil I returned back to bed only to hear my alarm ringing again at 5am. Great. Groggy from the lack of sleep, I got up and geared up in those sexy padded shorts and an old race tee. (No cycling jerseys yet… )
I met the guys at the Frisco Running Club Store at 6am. I Immediately started prepping my bike with the instructions ringing clear in my head,  "Bring a lot of water, nutrition and money because we'll need to stop for more!"  What am I getting myself into…
Wheels down at 6:15, six of us headed north on Legacy heading into the country towards Prosper. I really had no idea where we were or where we were headed. I was in the way back of the pack trying to keep up with 5 testosterone-filled dudes getting off on leading the pack and attacking the hills. And, riding with all guys presents another challenge — I have about 5 people yelling at me all the time.  "Down shift" & "Learn to Draft!"  or "Get over!"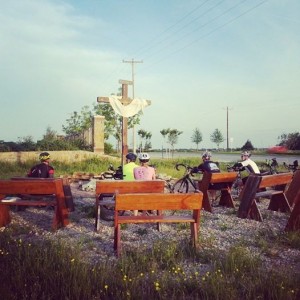 We came across this beautiful outdoor church in the middle of nowhere – we snagged a pic which looked so peaceful yet we were loud and grouchy with each other at the time. (I knew I needed to say a little prayer to make it 30 more miles so it was perfect! 😉 ) I think one of the reasons I'm going to enjoy the bike is because you are able to explore further than you would ever be able to on foot. And, go places you would never visit by car. It's so beautiful riding early in the morning out in the country!

We wrapped around Eldorado through McKinney (at least I saw the McKinney water tower…) and headed back to the store to complete our first 30 miles. We dropped half of our group who went on to Brick and run 6 miles. It sounded good to me, really, it did!
But, my weakest discipline is the bike and I'm forcing myself out of my comfort zone (and so is Zach) so I fueled up and pressed on for 20 more. When we stopped my legs were so taxed from the hills and the wind I didn't think I would get moving again. But I did. We did the "Tribute" ride out to the Tribute Golf Course and back to the store to complete our 50 mile ride.  I'm still not sure how I made it – my legs were burning and my lungs stinging.  My sweet friend Brent stayed back with me as I struggled behind.   He told me his story of the Kona Ironman — hearing his account is what got me through the end of the workout – so inspiring, funny and motivating.  Just what I needed to hear at that exact moment. Timing is everything!
When I returned home I was actually happy that Paul wasn't there.  I needed a moment to gather myself — a tear ran down my face  – my body hurt so bad.   After some self-talk,  "Julie, pull it together. Fuel up and head to the shower.  You're fine." I was able to reflect on how awesome my accomplishment was.  Coming back is hard work — and 50 miles ain't bad.  I have a feeling me and my QuintanaRoo will have plenty more mornings together and a few more distance PR's will be set. 😉