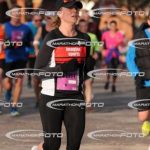 With what I think is two miles left and the infamous hill behind me, I tell myself it's GO TIME. The course takes me and my fellow racers towards town and I remind myself to "dig deep and breathe." But, my heart quickly falls to the ground when I see the sign for "Mile 11" – "WHAT?! Crap, another TWO MILES?" I silently scream inside for not setting my watch properly as it clicks 6:37/min/mile and confirms to me, that I indeed have two more miles of the Cowtown Half Marathon. I know I can't hold this sprint so I fall back to the low 7:00's – but it's too late.  I'm already taxed from the hills and physically DONE.  There's no more sprint in this sista!  But mentally I hold it together and I tell myself, "this thing is far from over!"

Now, it's to the point where I can't feel my legs – like so numb I can't tell if I'm wearing pants or shorts?!? My chest is tight from the cold I'm fighting and my head hurts from my heart beating harder and harder – but I focus straight ahead and continue.  Somehow, my legs are still working for me and together we click through two more miles and cross that finish line just south of 1:40. Hallelujah!
Earlier that morning I decided to race Cowtown by heart rate with only the HR display showing – I didn't want to "get in my head" about pace every 400 yards since I wasn't feeling 100%.  Well, it was around mile six that my watch read 148 HR and I thought, "I could stay here all day!"   With that, I began to quicken my cadence … #famouslastwords
I knew Mile 7-10 had all the work so I tried to run smart but I've also never drafted in a road race and wanted to tuck in with strong peeps. Runners lined up 6-7 deep and I couldn't help but join in.  It was around mile eight the headwind started to pick up, about 15mph and everyone joined a pace line. Flashbacks of Zach and Hamlin yelling at me to "keep my line" flooded my head as I stayed close to the Fort Worth Tri guy in front of me. I focused intently at the sponsors on the back of his jersey for two miles…until I found Barefoot Alex….
While I didn't get the chance to run with Alex, the 1:40 pacer till the end, he definitely made my day coming into the finish. He was a gentleman who ran barefoot, in a cotton tie dye shirt, Rasta man hat and ran effortlessly. Cool runnings mon!
I, on the other hand, came into the finish coughing, hacking, spitting and hunched over. One for the photos books, Mom!
While Cowtown wasn't a PR, or even that strong of a race for me, it taught me that training your mental muscle is just as important as any other muscle. (And it's not over till it's over! ) While I could of easily thrown in the towel on this one, I didn't and kicked off 2017 season strong! #mindovermatter #mentaltoughness
As I write this, sick again, I wonder if Cowtown was the best decision… but let's be honest, I would do it all over again!  Next up, Boston or Bust!
Results: Official 1:39:12,  5/496