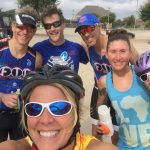 I'm at the FAC, it's dark, there's a chill in the air and I can still smell the chlorine on my skin from the day before. I look at my workout, I pause, but not even phased by the 3,000+ swim and 90min ride that's ahead of me. Just a zombie lately, going through the motions trying not to embarrass myself on Strava or to Coach Soria. Thanks to our digital world, my stats instantly show up for all to see – good, bad and really friggin ugly. 
Someone once told me, "To be a successful athlete you have to be comfortable with being uncomfortable."
I assume this means on and off the course because everyday I'm pushing my body to the limits. Mentally and physically I feel like I'm on the edge… Yes, it's very uncomfortable. I'm constantly trying to find balance between things like work travel to Paris — to the small things like remembering to get the mail each day.  My mind is always racing, thinking "When am I going to get in my miles?" And "What do I have to pack for the next day?" Or, "Jules don't forget your shoes again, or worse, underwear!"
As athletes we all have a lot to juggle between work, family, social, and lots-o-training! Some people wonder how we do it?  Besides being A-list multi-taskers, we squeeze as much as we can into every minute. How we do it? Not always sure… But a few of my time saving tips include: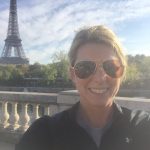 One word: Amazon prime

Dark and early: best way to carve out time for workouts is before the rest of the world wakes up

Stay loose: Try stretching or a few

 

squats while brushing teeth 😉

Eat well: Take Sunday to prep all your healthy food and snacks for the week

Duty calls: Take long conference calls while on the indoor bike trainer.

 

Ready set: Ensure bags are always packed and gear all in one place.

Team up: Use EZ workouts for social time, mental break and active recovery

Cut time: Ladies – try the 'open-window blow dry'. (Who has time to stand in front of the mirror and fuss w/ hair…)

One word: Garmin. Amazing gadget that's an extension of my arm – it tracks everything including my gear usage. I know y'all know it's awesome!

Date rides: Take your loved one out on training rides to spend time together 🙂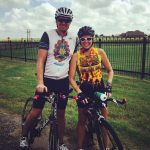 It's still messy, yes. I'm constantly irritated, tired, hungry and always feel like I'm doing too many things at once – because I usually am. The middle is always messy, but it's where the magic happens. It's where we grow as people, as athletes and where we find that inner strength we never thought we had.  In the end, it's what makes us an Ironman.
#26Days #IMAZ