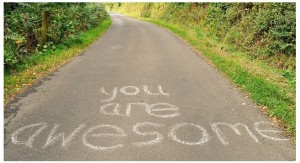 Today while I came up for air during a set of 200's a gal in the lane next to me said – and I quote – "You swim so PRETTY!" Umm, thanks?!
Now, I'm not sure if that was a compliment or a dig at my slow-ass-sissie freestyle? But, WTH? I thought about it through my entire set and probably the rest of my workout.
Then I got to wondering, can athletes just take a compliment? (Even weird ones?) Deep down we all know there will always be someone faster, better and who can go longer. But, we are incredibly critical and tough on ourselves regardless. After each race we analyze each mile – what could we have done differently? "What if we took that GU earlier?", "What if we didn't take so long in transition?", "What if I kicked it harder at the finish?"
Would that have made the difference?
After my most recent [healthy run] at the Hot Chocolate 15K I ran a 7:06 average mile – not my best and I was far from feeling good about my performance. But, I placed 3rd in my age group and was in the top overall females. I didn't even stay for awards – I left discouraged and flustered. Yet, my friends and family were very impressed and happy for me. "Let's celebrate"- "I seriously don't know how you do it!"- "You're my hero!" — but those words would go in one ear and out the other. I hadn't reached MY goal.
Well, I have definitely gained some perspective the last few months. Even writing that last paragraph makes me cringe a little bit.  I have a healthier outlook on fitness and a greater appreciation for what my body can do than ever before. Don't get me wrong, I'm still addicted to the thrill of the race and the grit of competition!  But, I know there will come a day when I can't do this anymore – so I will embrace today and hope for tomorrow.
People ask me all the time "what's next?" "What's your next big race?"
My ultimate goal? To be an athlete who inspires. Simple as that.  To me, that would be the biggest compliment.