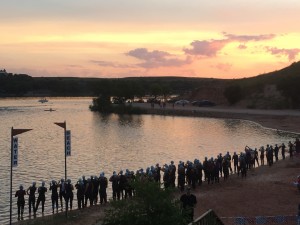 With every race I do, I leave a little bit of myself out there on the course. Buffalo Springs was no different.
The bike course challenged me in ways I didn't think I had in me. The first mile of the run I couldn't feel my legs and the swim felt so long – was that just 1.2 miles?!
But, I knew this was one would be a toughy. Buffalo Springs Lake is one of the more challenging 70.3's in the Ironman circuit. Folks come from all over to put their training to the test against the infamous hills + heat. For me, this was my warm up for my full Ironman in Louisville… which has 5,000 feet of climbing!!! Eek!
My day started at 3:30am at Hamlin's lake house. After getting fueled, packed and ready, we headed to Buffalo Springs Lake – Paul driving me and Hamlin and Jenny Spears driving Jason and the kiddos. We got parked and walked down the infamous "first hill" to get body marked and set up at our assigned T1/T2 spots. There were athletes roaming everywhere in the dark with flashlights and headlamps trying to set up. I could feel the eyes on me – chicks trying to size me up and judging my mediocre used bike. I brushed it off and peed like 5 times to workout the nerves. (Not out of the ordinary for me?)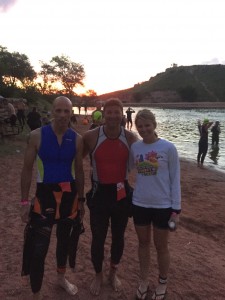 Once I was set up, I walked over to the guys to do a sunblock check and lube spray down. Oh course their ridiculous jokes had me giggling and I found myself calmer and ready for the swim. Thanks guys 🙂
We walked down to the water – athletes were everywhere squeezing into their wetsuits – jumping up and down to get in it. I immediately had flashbacks to getting into my skinny jeans on a Saturday night…. I giggled to myself and think "oh, how things have changed?"
After a few pics and "good lucks" I get in my wetsuit and designated swim cap and head over to watch the elites push off. Just before, Paul gives me the typical hard-ass pep talk and heads to the stands. The National Anthem starts and quickly sends butterflies into my stomach and I realize…it's GO time.
I was wave 6 starting at 6:45am with 70-80 other women. The swim start was chaotic, but always is. I had a hard time sighting and mid-swim I immediately promised myself I am going to do more open water swims (OWS)! "Damn Jules, practice OWS!" I reprimand myself! But, I continue the best I can following the others in front of me. I zig-zagged a lot and lost what I felt was a lot of time? But, I finished the swim in 34 minutes which was right where I wanted to be. My watch didn't work for the swim so I was guessing and winging it … So, I was pleased with 34 minutes 🙂
When I arrived at shore, I quickly got out of the water, passed the wetsuit strippers heading immediately to transition. But…. I ran right past my spot, then back over it, I could not find my stuff!!! Paul was yelling from the fence, "Keep going, one more over, down this row Jules!" It was bad. I'm such a rookie at heart. Even once I found my things it was a slow a T1 and bike out…. Damn.
Then immediately out of T1 we got smacked in the face with the infamous "first hill"! "Get in granny gear and just get up" my coach told me. Those words echoed in my head as I climbed that first hill… I did my best but oh boy!? And this was just the first one… "Going to be a long day" I thought to myself! Once over the first hill there were some rollers out of the park and false flats until mile 12. Then it got fun. Here is the course for reference:
The hills were fast and steep and curved around the canyons. At times on the down hills I was going close to 36 mph! I was hitting my breaks and hanging on for dear life. After mile 42 or so we began back to the park and were smacked with a headwind. I began to lose it. I fell back to 14-15mph and was barely hanging on. I thought of Paul telling me "I don't care if your legs hurt, 20mph no matter what!" He was going to be disappointed, I just knew it. I saw Spears pass me at mile 45 and give me a little jab, but I didn't care. I could NOT move. My hip flexors ached deeply and my calves began to seize up here and there. I was so frustrated because I did so good with my nutrition – this shouldn't be happening? But it was…and my body was starting to fail. All these questions started running through my head, "Did I do enough salt?", "Should I have another bonk bar?", "Maybe I needed another bottle?"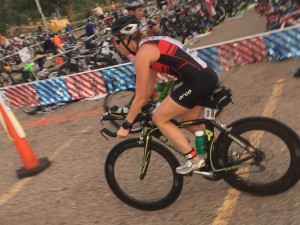 I rode into the park "on fumes" for those last 10-12 miles thinking, "Jules, you could even run this far, it's only 10-12 miles … Just cruise on in… You've got this!" The salty sweat was dripping off my helmet into my mouth making my stomach turn. And, the sticky Gatorade residue was all over my bike and down my legs – all I could smell was lemon-lime sugar which was grossing me out. I was craving fresh water and something solid, like a PB&J! I continued on daydreaming of "normal food" and getting my ass off that bike seat… Soon, before I knew it, I was back at T2. Thank God.
I pulled in (finding my spot this time), put up my bike and *slowly* put on my shoes. I knew that I needed a minute or I was at risk of passing out. This was my longest transition of the day – perhaps longest transition to date? I started to "run" out and stumbled catching myself, I couldn't put it together yet?! My hip flexors were so wrecked from the bike that I just couldn't move yet. A volunteer looked me strait in the eye and said, "You got this?" Clearly as a question. I said "yeah" and stumbled away pushing her arm away from me.
Paul and Jenny Spears saw me on the run out cheering me along as I got my feet under me. I knew right then from Paul's look at me that he understood – I was hurting. But he didn't acknowledge it, not one bit! He pushed me along, "Go get Spears, Chase him down!"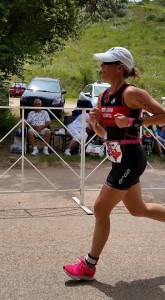 The first mile of the run I could not feel my legs. I barely remember it to be frank? The route wrapped around the back of the park – it was quiet and empty. I was not even sure I was on the right path… But I kept running. I ran 8:30, then 8:20, then I arrived at mile 3 – the big ass hill. My coach actually told me to walk up this sucker! And, Soria has never told me to walk in 5 years so I knew this was serious, and it was! I didn't walk but my pace was shot after this (maybe I should of listened, maybe not?) This is where I passed Spears and he reprimanded me for running up mile 3 hill! "I'm going to call your coach!" He yelled as I passed by… I just nodded not being able to reply. From there I was on my own for 6 hot, hilly, mind-numbing miles.
On the edge of delusion, I found myself at mile 3 hill again, now Mile 9 on the looping course. Did I walk? Nope. I averaged an 8:58 for the day with hills, heat and off a wicked tough bike course. I was grabbing water at every station (could no longer stomach Gatorade) and stuffing cold rags down my jersey at every mile. I was a quite a sight – a friggin hot mess actually. I was only able to run down 2-3 girls to come in 9th in my age group finishing at 6:02:43. I suppose it was a solid day all things considered and Buffalo Springs definitely lived up to its reputation! Crossing that finish line felt amazing – and into Paulie's arms, even better!