A few weeks ago Paul and I ordered Chinese (don't worry it was steamed veggies not fat balls!) and I received a very appropriate fortune cookie "Time heals all wounds. Keep your chin up"  At the time I thought, "BS, I have been trying to keep my chin up and give this calf all the time in world to heal, and still nada!  But, I guess I need to thank the Chinese Gods because here I am up and running  before expected.  
(Thank you Chef Chens? 😉 )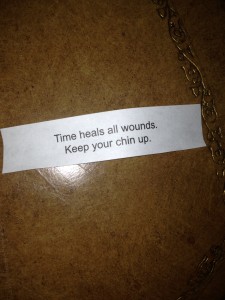 I have been adding some running into my walks for the last 7-10 days —and all I can say is what a humbling experience.  I'm sluggish, creaky, stiff and just plain slow!  My average min/mile has been around 11-12min.  Redic.  But, the calf is intact!
So, this weekend I made the commitment to finally start a training schedule again.  I knew it would be slow but I couldn't stand going at this alone anymore.   So, I decided to go to the FRC social run on Saturday at 8:30am – I thought it would be a good way to ease back in.   Nope, my friends basically hazed me to get up and go to the BRICK (Bike + Run) at 6:30am by sending me texts all day Friday with messages like, "theres no try, just do" and motivational YouTubes.  Bottom line, I'm a sucker and ended up riding 20 and running 5.5 miles on Saturday morning.  Ugh, I love those guys and hate them at the same time.
And, the result? I have never been so exhausted in my life!  Goodness.  How much endurance and stamina have I lost?  It took all my focus to get through the end of that run – and might I add we were slow as snails!  Big thanks to Bridget for hanging with my slow butt! #truefriend.  And the rest of the day I was completely wiped.  Paul saw me and said, "jules do you feel ok?"  "umm, yes, just tired…"  I took a quick nap and was off to bed at 9:30pm!   You would of thought I did a Century + 10k Brick!  It's official – I am out of shape. I got BRICK'd.
During our ride the guys were talking about what Ironman to do next summer.  I was excited to be part of the conversation and perhaps part of the group to go.  But, after yesterday I had one of those moments where I thought to myself, "I just don't think I'm going to make it – not to something like that.  I can't do this."  However, there was also another, much quieter voice inside saying, "remember this day when you cross the finish…"
I may spend the rest of my summer fighting for my fitness, chasing boys on the bike, and trying to be a triathlete but I am looking forward to the challenge — Even if it means I'm off to bed at 9:30pm and we eat a lot of Chinese because I don't have energy to cook.