Running Boston 2013 was the best day of my life – until it was the worst. Supported by my amazing family and awesome fans that lined the streets, I finished approximately 15 mins before the bombs went off. Elated with my performance, I headed off to the family meeting area where I quickly met Paul.  Moving slowly from calf cramping we found my sister, Jenn and brother-in-law Chad, who were coming up from just seeing me at mile 25. Chad took one look at me and scooped me up and got me to a cab back to the hotel.  (Till this day I feel like he knew something was happening?) I was in a lot of pain and my legs locked up so bad it took my breath away.  As Chad carried me out of the cab we entered the Omni where my emotions quickly turned. I learned of the explosions that had just taken place on Boylston Street.  I'll never forget the shock, fear and sadness that immediately blanketed my body.  I thought, "Some of those people cheering ME could be dying? … Some of those runners racing next to me might be terribly injured…. And, my husband was suppose to be in the grandstands!" I couldn't help but wonder "what if."  I stood motionless, scared and cold.
The rest of the day was a blur as we learned more about the attacks.  My entire family was there to see what was suppose to be a momentous occasion.  My Mom & Dad, my Brother Jeff and Sister-in-law Kori were there along with Jenn and Chad.  Even our best friends Dustin & Lindsay came to see me!  Dustin was at my very first marathon in 2010 and he said, "if you ever get to Boston – I'm there!" Well, he ate his words which I kind of enjoyed.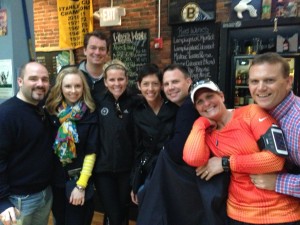 All of us were locked in at the Omni for the night.  Everyone I knew was trying to text to see if we were "ok". I just couldn't make my hands move fast enough to respond to everyone and our cell service was going in and out. But, we were safe and all together.  Our family became a little closer that day all huddled around the Omni bar watching the news – even more thankful for each other than ever before.
We witnessed runners and family members reunite over and over with tears of joy and happiness.  Many had not seen each other since early morning and had no way of knowing the status or whereabouts of loved ones. 5,000 runners were re-routed to the convention center and not released till early evening – Can you imagine being completely off the radar in crisis?  I was able to connect with the other Boston runners I knew – although, connections were sporadic.
A lot of people would say, "Good thing you're fast" – but it didn't really resonate with me until later.  The entire traumatic experience didn't set in until I was home and really began to think about how lucky I was?  Learning how many people were worried about me and listening to their stories – it was overwhelming. Many told me they stopped right in their tracks and said a prayer for me.  Something I will always remember.
Not a day goes by where I don't think about that day. How that cowardly act of terrorism that took a piece of me, a piece of the running community, a piece of all of us. My mind often turns back to a billboard around mile 18 of the course referencing our countries unity during 9/11 – "COWARDS."   I think about that moment and running past it all the time. Today, the billboards switches between "Cowards" and "Pray for Boston."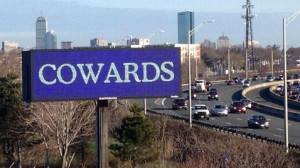 Today, on the first anniversary of the attacks, I ask for you to pray for Boston, pray for the running community and pray for those running for redemption on April 21, 2014!  #BostonStrong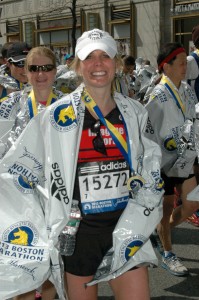 "If you're trying to defeat the human spirit, Marathon Runners are the wrong group to target" – David & Kelvin Bright