It's that time of year again… I see my timeline fill up with #finalcountdown, #bostonorbust, #tapermadness and so on… Yes, the infamous Boston Marathon is just around the corner!
Runners have trained all winter and spring to put their fitness to the test come Patriots Day. They've studied the course, put in the training and are more than ready to tackle the historic net decline roller course best known for heartbreak hill!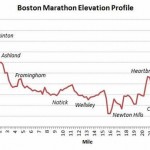 Running in general has gained so much popularity in the last few years that the time standards for entry to holy grail – Boston – are getting more and more competitive. In 2011 the B.A.A decreased the entry time by 5min in each age category for male and female. (Five minutes faster is a game changer!!) And even with the fairly recent decrease, runners still have to come in under one minute and forty-one seconds faster than a qualifying time to have a shot! (2014 admittance times.)
So, what does this say? If you're going to Boston you're wicked awesome!!! Yes, the top age groupers in the country will be along side you. Not to mention you'll be coming up behind the best elites in the world! It's amazing to think "Sharlane Flanagan was just running past here…"
As many of you know, The Boston Marathon has a special place in my heart and will be a day that always stays with me. In 2013 I was running one of the best races of my life – rocking the Boston course – on my way to another BQ, it was surreal !! Yet, cloud nine only lasted about 30 minutes... Until that day was taken from me and 27,000 other runners. Tragedy struck.
(Read more about that day  here & here)
So, if you're heading to Boston – kick some serious tail for me! Enjoy every minute… It goes by in a blink.
4.15.13
Boston Strong!