On race morning a lot of things can run through your head to rev-up the nerves, but as I sat with Jenn drinking coffee before the swim, I was surprisingly calm. I thought to myself, 'there's nothing I haven't had thrown at me before that I couldn't handle. I'm ready.' Little did I know I would wreck, flat and have to dig deeper than I ever have before…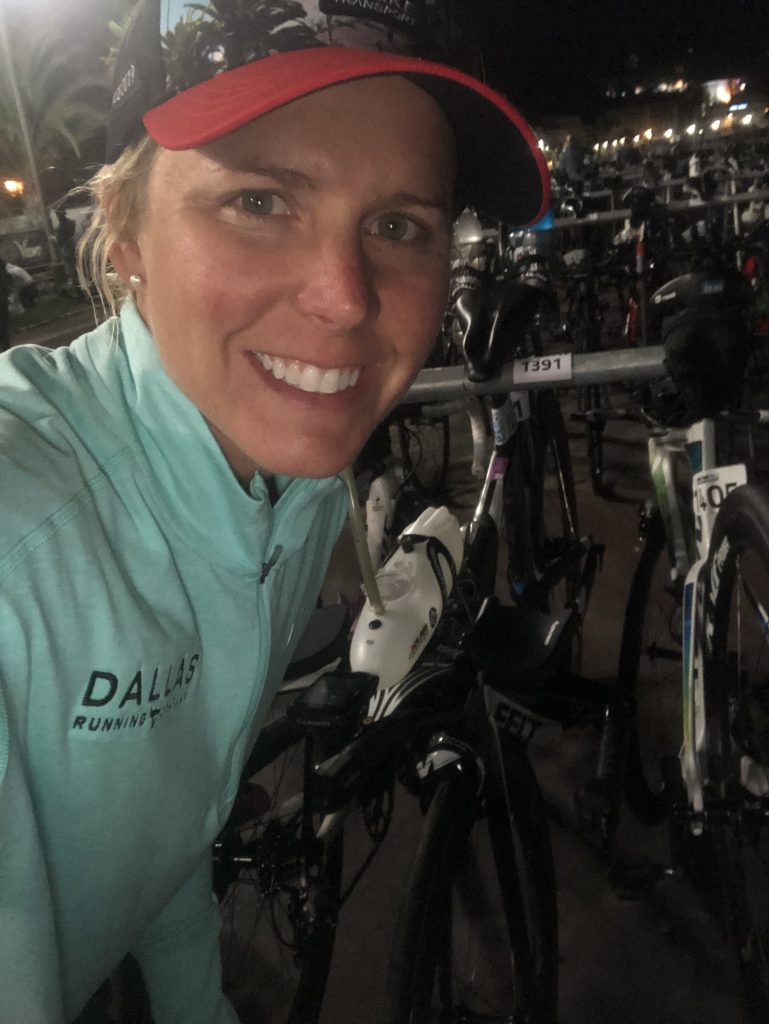 The swim start was nuts, shoulder to shoulder – as was the entire bike check in, bag drop, etc was the day before. Just soooo many people! I was the 4th swim wave starting at 7:26 so I was in the water and on the course fairly early. Bob, Susan and Jenn got me suited up in my sleeveless wetsuit (almost EVERYONE had full sleeves for extra speed! Oops) and I headed down to my corral. I seeded myself in the back because let's face it, everyone here is wicked fast and I didn't really know where to position? I did end up swimming over several folks early, but still believe I made the right decision. When the French national anthem played I got chills – the sun was coming up and the quiet moment served me well to take a silent moment of thankfulness and prayer. On the left platform was the media, the right platform was all the suited up Ironman execs, and in the sky was the chopper capturing live footage. The pros were coming in just as my wave started. Got to spot Lucy Charles pop out of the water 🙂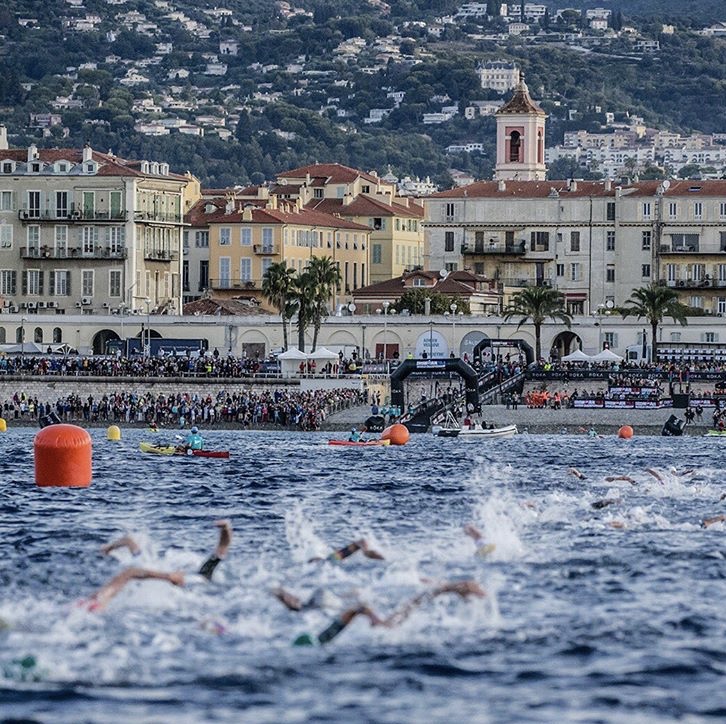 The swim was a bit choppy, but it's the Mediterranean. And the buoys were quite small and hard to see – not like the giant ones we've had, but again, was not too bad and able to follow and draft some since so many athletes. Swim times overall were a tad slower for some reason, but I was fine with 37min ocean swim and felt strong and consistent throughout.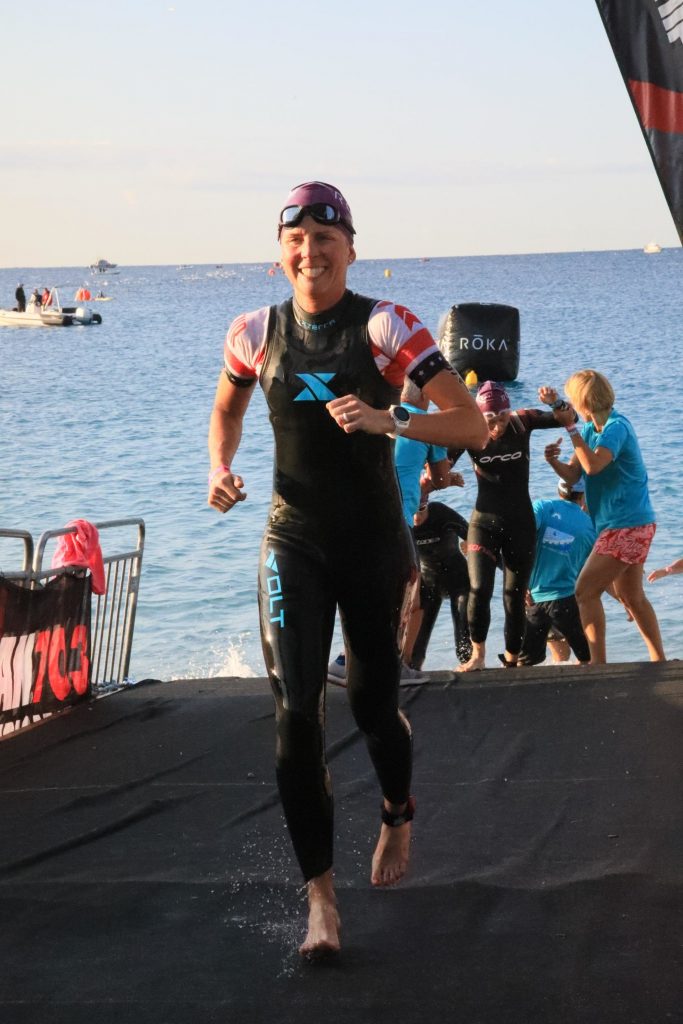 Coming out of T1 was a ROCKY beach so it was carpeted well but the volunteers still had to yank us out over the shore rocks. (There's literally NO sand in Nice?!) and T1 was long and narrow to house 4,500 men's and women's bikes so it was almost half mile long. That's not a joke. But everyone had to do the same transitions so I scooted along in those bike shoes best I could 😉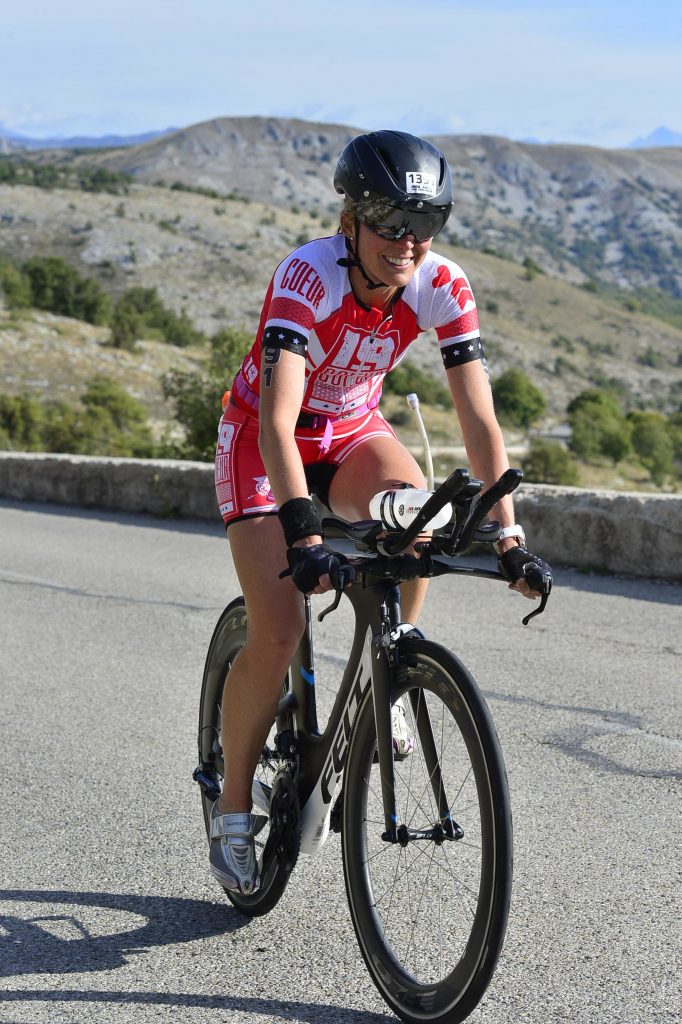 I moved through fairly well (transition is always my weakness) and mounted my bike pedaling out of town towards the mountains feeling very good. But quickly realized I had NO POWER METER? Typical. But, not the first time this has happened to me in a race so just got in my head this would be on perceived exertion and heart rate today. The winds were coming in off the shore but a BEAUTIFUL day for a race. We had about 8 miles until we started to climb so made sure to push early calories on this flat section.
After a few 'roundabouts' we made a hard left then right and hit the first real climb with no momentum, 13% grade (aka INCREDIBLY STEEP)! Everyone came to a scorching halt, up outta the saddle, working it! Phew. We continued steady up at ~ 3-6% and hit then the next punchy climb at around mile 20, another 12%. Then started the epic 10K climb at 5-7%, known as the Col de Vence. The first two steep climbs definitely shocked my legs, as I knew they would, but once we hit the crazy 10k climb I settled in… I knew it would be 45-55 mins of nonstop. But I felt trained, prepared and pleased that I was keeping HR so well controlled. Perhaps I could have pushed more – but I was still moving well with a pack. We went around each switch back getting closer and closer to the peak – it took me almost two hours to climb to the top from T1!!
And just like that we made it and started the descent…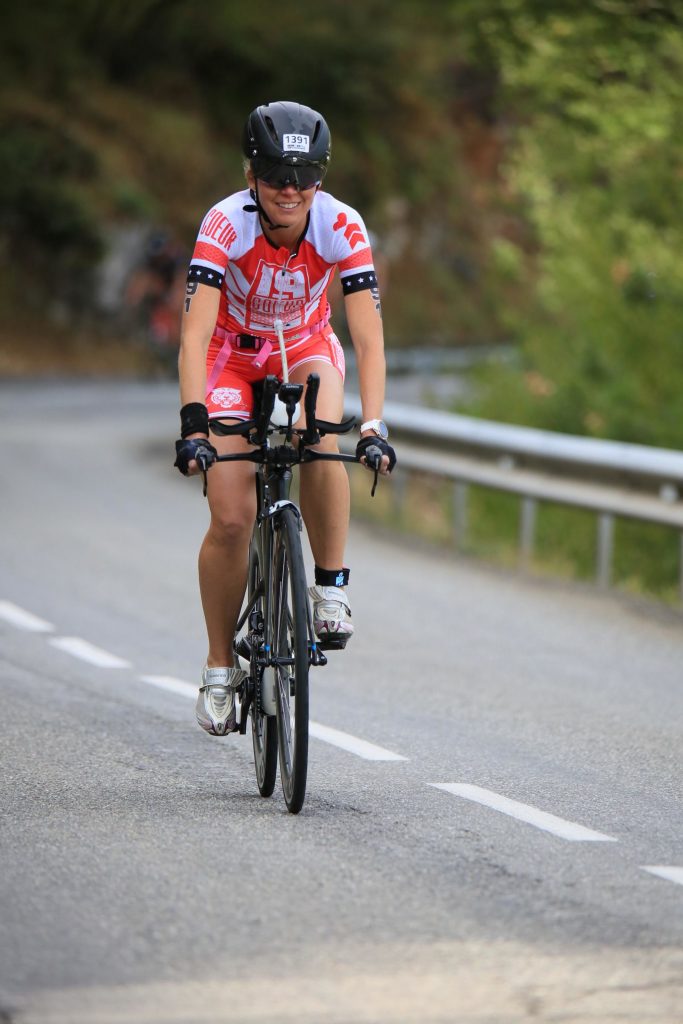 The chill from the backside of the shady mountain was starting to radiate through my body – my hands were starting to go numb – each finger slowly losing feeling one at a time from gripping tight. I had been holding my breaks for dear life almost an hour and eventually I was only able to grab with my ring finger and pinky. I knew it was risky to continue like this, but was so close to the bottom now approaching the mile 48 aide station. The switchbacks and steep descents had done a number on me mentally and physically – I was extremely tense and stressed. For just a moment, I eased my mind and rolled my shoulders back looking up for a second and before I knew it I had lost control heading straight into the mountain! I bounced off and rolled left sliding with my bike downwards until momentum stopped me. I laid there a second in shock as adrenaline flowed through my veins – what had just happened? Before I could move a muscle two girls from Team Coeur and Team Wattie Ink stopped (oh my gosh how sweet!!) and were off their bikes to help me. I still couldn't move- afraid to come out from the rumble … once the girls got me up to my feet a wave of relief came over me, nothing was broken! Minutes later medical and SAG were on the scene (so impressed with Ironman France!) and I told the girls to GO!!! I would be fine.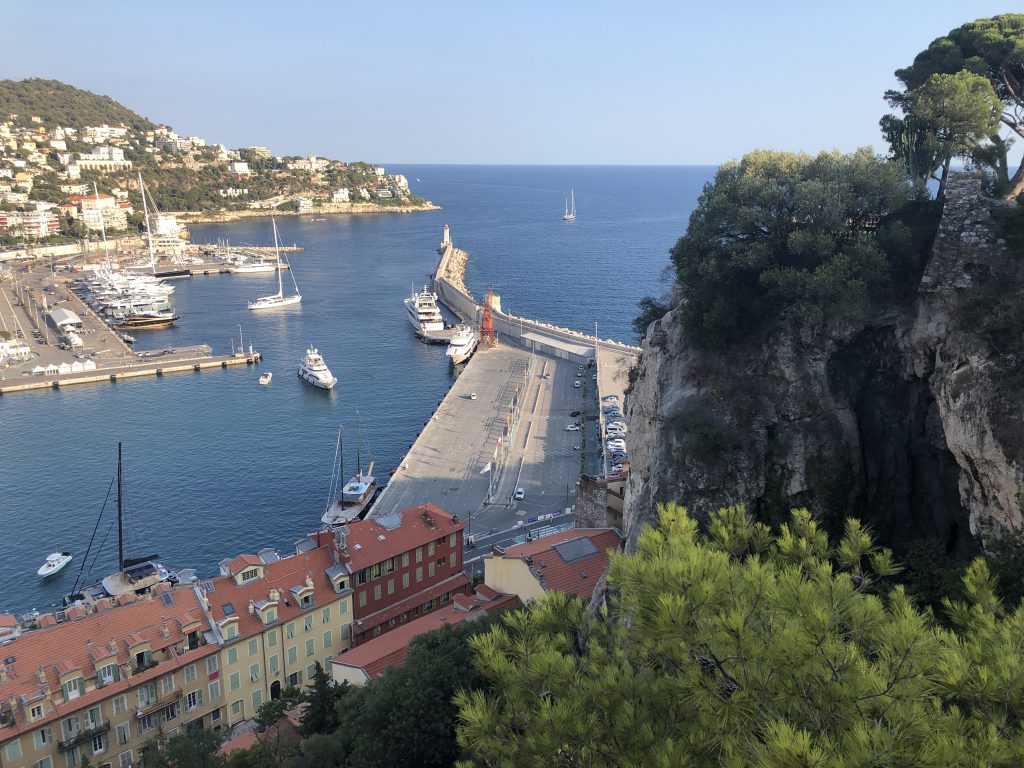 'I want to continue' I said through tears as Frenchmen started to look me over and scan my QR code. The bike tech spoke English and got started on inspecting my bike right away – I had a flat, back tire wobbling and breaks off as a result. Plus Stevie (my bike) was dusty and scraped up, broke my heart. But the tech went to work, and was moving fast.
Medical on the other hand was slow… I had them just hand me the phone to talk to Jenn – the connection was terrible on the mountain but she was able to hear I was OK and told me, 'No matter what Jules, get down that mountain and finish!' Whatever is wrong I'll take care of you when you're done!' Spoken like a true athlete… those words echoed through my head the rest of the day. No matter the pain I was in, we would get through it together at the end.
They released me and the bike tech swiftly got Stevie ridable all in about 20 mins – I cautiously started back down. The motorcycle stayed with me for about a half a mile and gave me the 'thumbs up' (which I've learned is universal language for OK) and I was on my way. The breaks were shot now and I had to be super duper careful all the way in. But with 8 miles to go, I was almost to T2!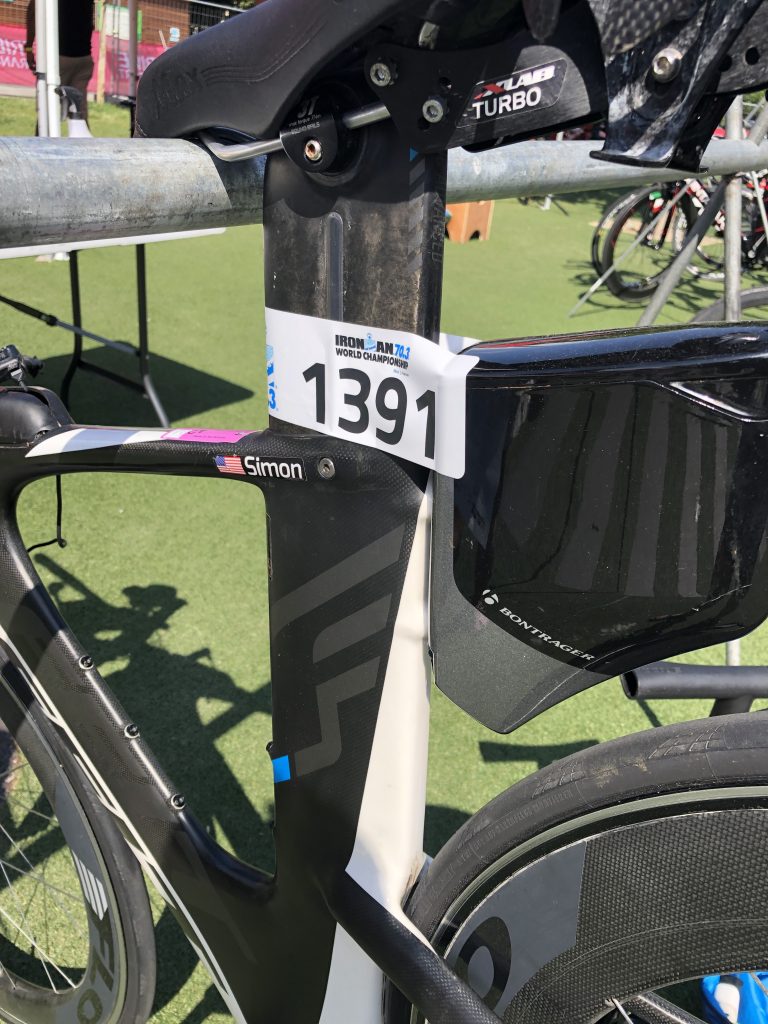 I arrived to T2 and there was a guy with medical credentials waiting for me to walk me through – not sure if they radioed it in or just saw the blood or what? But I was escorted through … which was actually welcomed, I was a zombie! It took me awhile to put myself together and no idea what Waiver I signed but eventually I made my way out to the run course!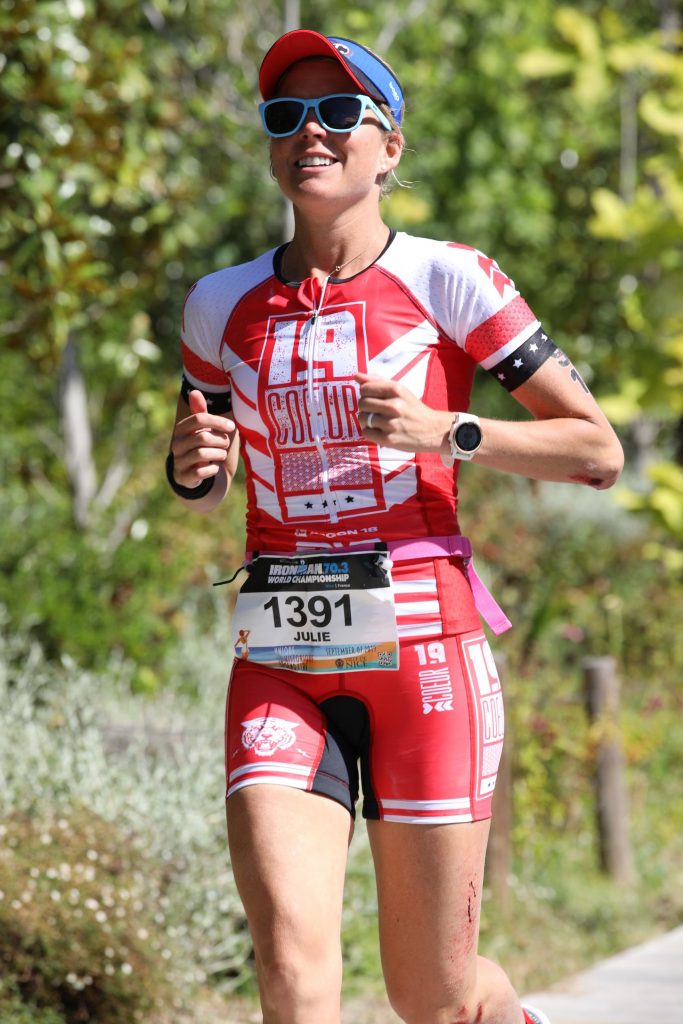 My hip was throbbing and blood running down my leg and arm, but I was ready to fight! The electricity on the course was amazing – like nothing I've ever experienced! People lined the entire promenade yelling and cheering in different languages and the athletes were so uplifting and respectful. I just dialed into my race pace and tried to hold – not knowing what would happen with the hip pain, but knew I had to try. This was the world championship! It wasn't until mile 11 where I found some trouble – my stomach was rumbling and my leg/hip were almost causing a limp. I found a run pack to get into and tried to hold on, I had slowed closer to 8min+ miles, but I was still moving – I would finish, and I focused on that. Seeing Bob, Susan and my sister out there gave me the extra energy boost I needed to keeping fighting with a smile. I gave them a final wave as I headed down the chute… the red carpet felt soft and welcoming as I slowed down to look around at the stands – soaking every last second of the finish line moment. I punched my hand to the sky in excitement as I crossed pulling my hands over my heart thanking God for this moment, for my safety, for this experience… what a feeling?!!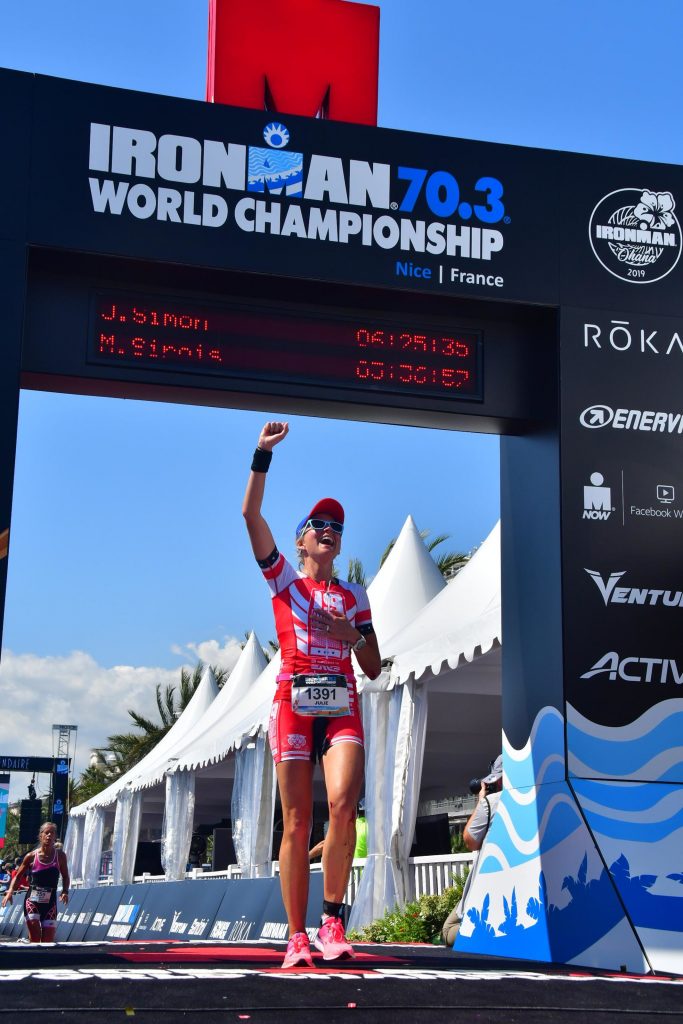 After finishing I got myself together and we were corralled into athletes recovery and then to family meeting area. I was so ready to be with my tribe! But as soon as I arrived Jenn made Fabiola take me back into medical (again). They needed to get the stones out of the road rash… sweet Fabiola took me under her arm and walked me over to get everything taken care of, plus a dose of French 'mystery meds' 😉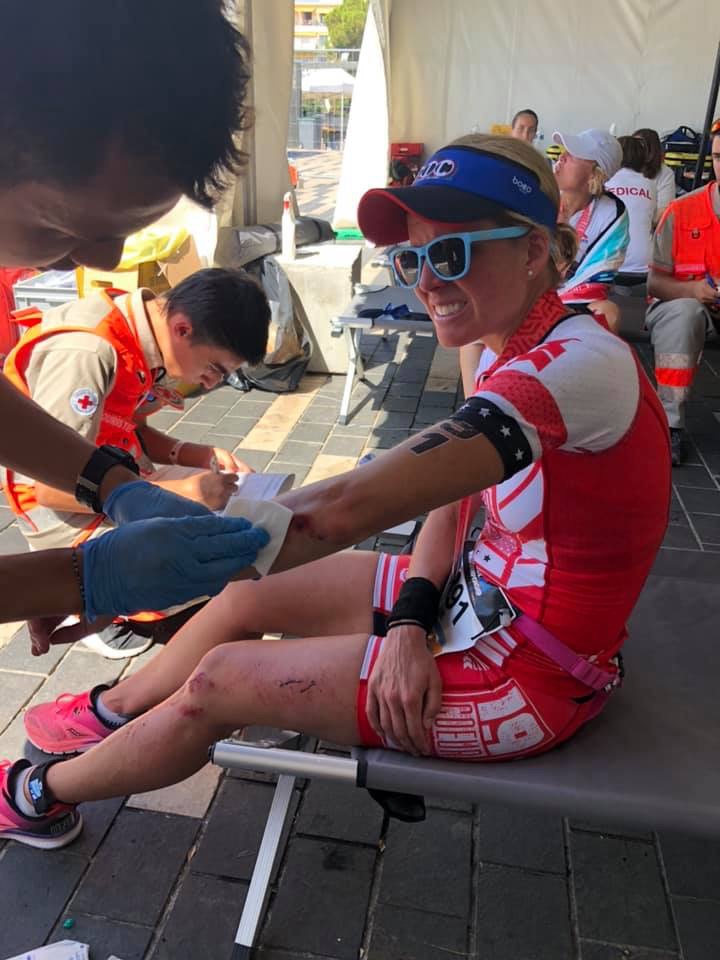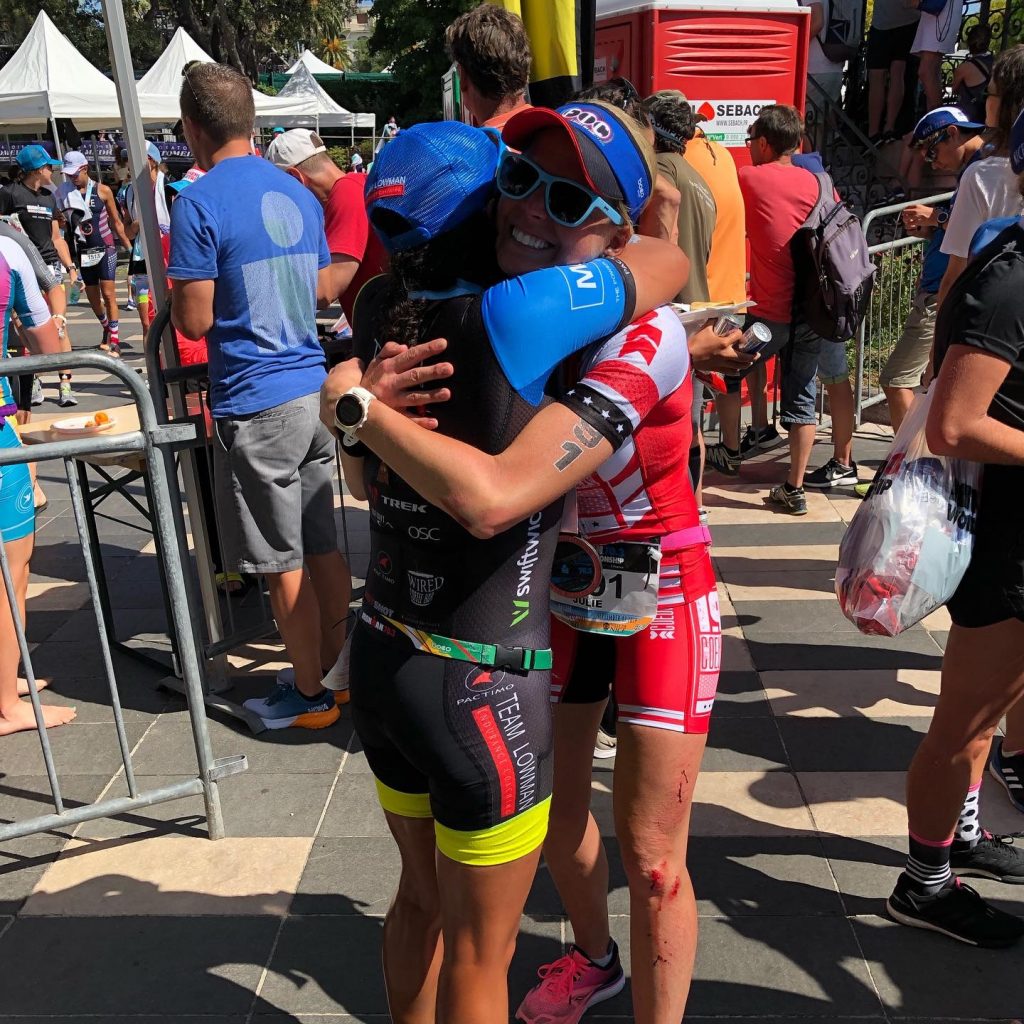 The rest of that night is kind of a blur – but I know Jenn showered me up, iced me down and got me some French champagne to celebrate! In the background she was running all over Nice hauling my crap and doing pick ups at designated locations for my bike and athlete bike/run bags. Sherpa life is not easy – and she killed it!! I'm incredibly blessed to have her by my side this week and for this amazing experience. We made memories that will last a lifetime and the bond between us continues to deepen. She's so supportive, encouraging and motivating … really couldn't have done it without her! #solesisters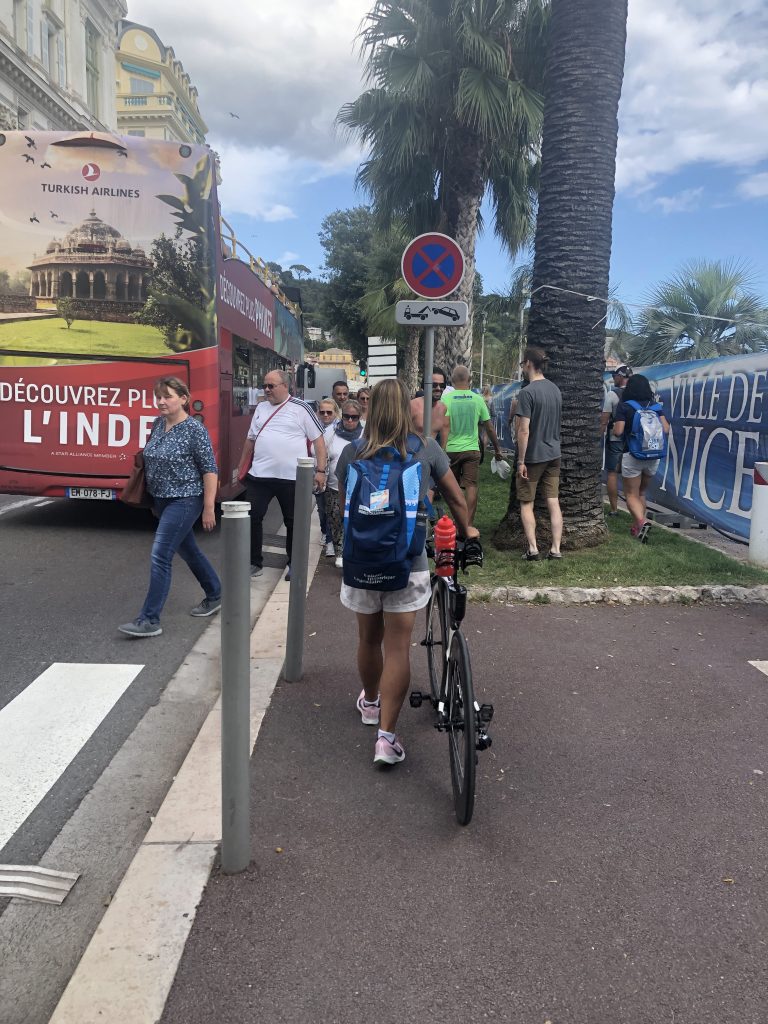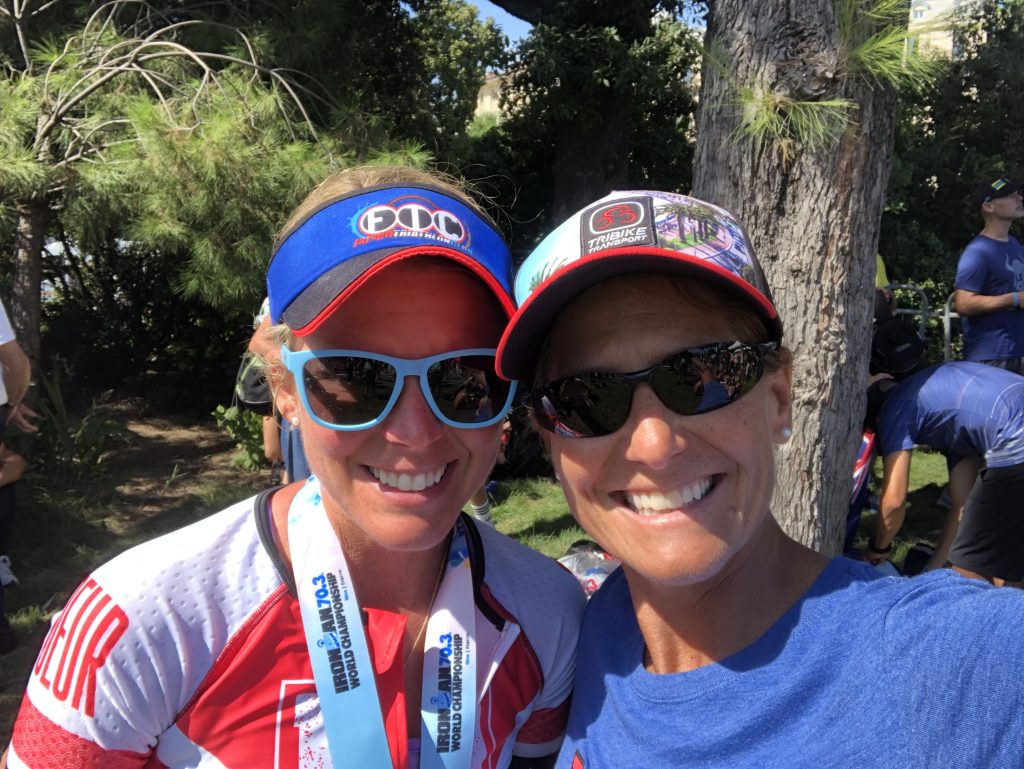 My heart is so full with the love and support from everyone back home – I felt your prayers out there – it lifted me up when I needed it most. Also, for my training crew for pulling me through those tough days – keeping me moving & focused during this mentally tough training block. Especially for the tribe here in Nice who rallied around me many times, helping out this first timer 🙂 My cup runneth over! Finally , I have to thank Coach Tommy for being patient with me, constantly adjusting my plan, and working with my moving schedule to get us to s World Championship finish line!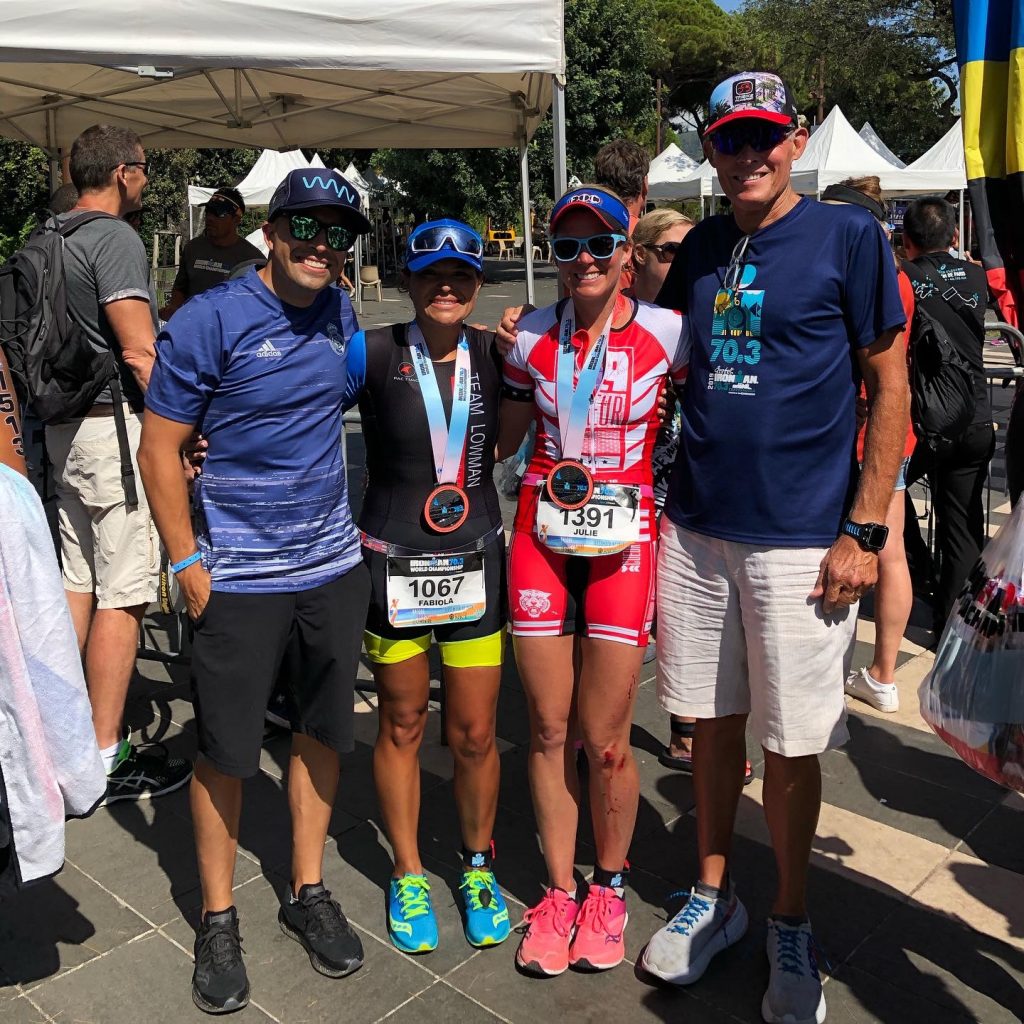 And I wouldn't be here without my Paul, my Rock, who has supported me every step of this journey – on good days and bad – giving me everything I need to be successful. Baby, I love you. #TeamSimon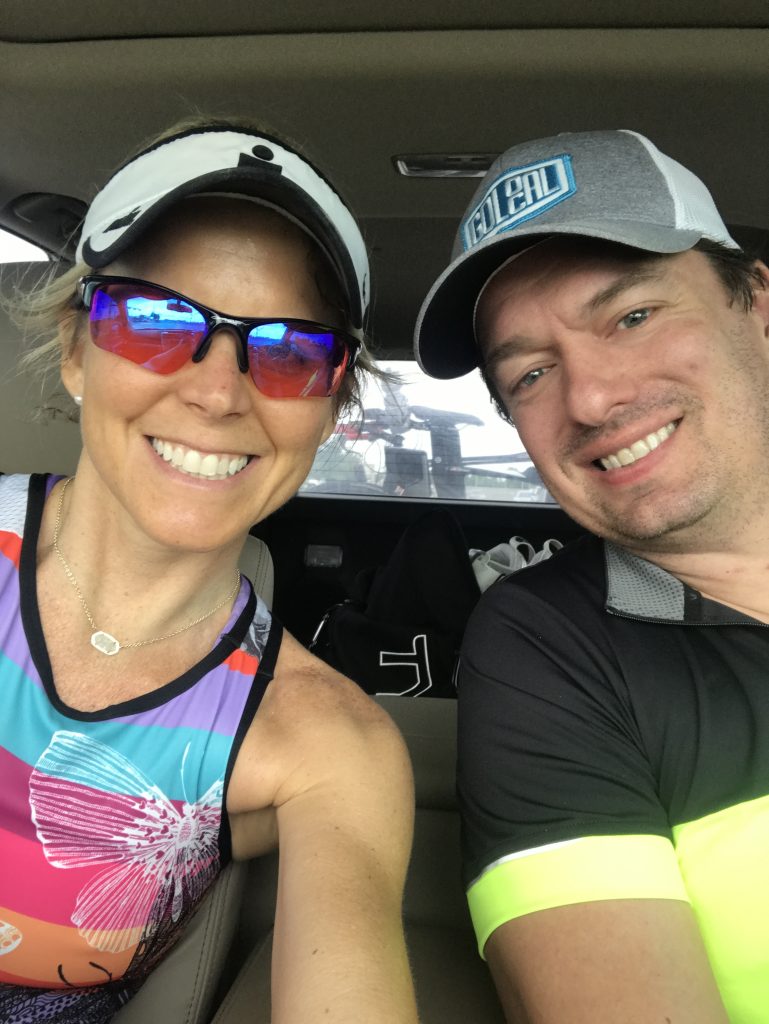 John 16:33
"I have told you these things, so that in me you may have peace. In this world you will have trouble. But take heart! I have overcome the world."