On August 7th I turned another year older and officially said good-bye to good ole 31. I must admit, I'm not usually one to look at years of my life as check marks or tallies, but I was excited to leave 31 in my rear view mirror and literally "run" forward toward "32".
So, that's exactly what I did.
That week I had tentatively been planning on the third-annual birthday run but kept hearing that small voice inside; "I wondered to myself, was this really smart? Was my body ready for this?"  I had a rough year and was scared this long run would derail my efforts and set me back… yet again. I had not run 20 miles since January and still struggling with an extremely tight calf each week.  But, a louder (probably more ignorant) voice in my head convinced me otherwise.   It was on!  I reached out to my FRC running peeps and just like that the birthday run was planned.
Literally, the night before I went to Luke's and bought new shoes with more support for my calf. (A little freak out moment you could say?) I came home with the Nike Elites – one step up from my old faithful Nike Frees. Believe me, I know it's a Rookie Mistake to run in new shoes for 20 miles. But, I was willing to take my chances with blisters to better protect my calves. 
Thursday morning came fast and I woke at 4:15am to prepare and get over to the Frisco Running Store to start my laps. Paul had gone to Kroger the night before and packed my aide station cooler.  He packed enough for me to be completely fueled the whole weekend 😉  Whatta guy!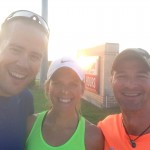 Hamlin joined me on my first loop from Legacy – Main – Teel – Eldorado. In true Hamlin style, he was pacing me too quick (8:20's) and I had a big day ahead of me! He kept saying, "oh, how fast are we going, sorry…."  We would slow down for maybe 100 yards and be back up again!   So, needless to say, I was excited to see Zach for my next loop. He was like, "you have a long day, you need to be running like 10min/miles." It was music to my ears. And, that's exactly what we did for the next lap until we found Bridget.
Bridget is my running bestie! She doesn't put up with sissies, any B.S, or take any excuses. It kind of makes me love her more. But, when we found her we picked up the pace a bit again.  C'mon speedy B!
Bridget and Zach ran me into home base with 3miles left. "Are you sure you've got it from here, Jules?" I just looked at them my heart filled with so much love and joy knowing I was going to make it now and replied,"Yes, I've got this. Thanks, I love you guys!"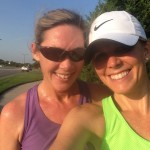 I refueled. Stripped my shirt (now completely soaked). Texted Paul. And, with that I turned down Legacy with a very calculated 1.5mile turn around in mind. I know it was just endorphins carrying me at this point but I was so happy. I spent that last 30mins enjoying every stride, every breathe, every moment …..  I just praised God for how far He's taken me this year – and trusting in all He has planned for my future.
I finished my 32K (19.88 miles) in 3 hours and 16 minutes.  No records, medals or podium.  Just the success of covering the distance as a 32-year-old runner.