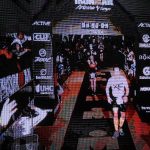 It's dark, the chill is back and a few raindrops are starting to hit the pavement. My breathing is labored, my legs are jelly, and my vision blurred – yet I can begin to hear the finish line cheers and it gives me a sense of ease in the midst of my pain. "Leave it all on the course" I think to myself as I try to pick up my pace down Rio Salada. Cheers of my name start to increase as the crowd picks up and fills in closer to town.  I can't look or force a smile anymore, I continue and  focus straight ahead. My mind flashes to Coach Soria and Paul – both who tell me I need more kick at the end of my races. So, I take a deep breath and force my turnover as I say a prayer my body can deliver what my heart wants to achieve. "Steady. Steady." I repeat over and over  to myself as I approach the final turn to the long anticipated finish line. Instantly, I'm blinded by bright lights as I hit the red carpet. "I'm here, finally here!" I think to myself as I slow down and take in the moment… tears start to well up in my eyes as I jog past my family behind the barriers to my right  – they're  jumping up and down. Again, I can't look but somehow lock eyes with Paul… he looks so proud and my heart instantly warms and a single tear falls to the ground. Within a few strides, I open my arms wide as if to say "here I am!"  and I finish giving a punch up to the sky. Immediately, my hands come over my face and I'm overwhelmed with emotion – the tears come rolling down.  Right then I thank God for this moment, this race, this opportunity, this life!  Ironman Arizona is in the books. 11:29:11.

A lot of people ask me, what goes through your mind out there for 11-12 hours? How do you dig deep, how do you push through the pain? What do you visualize? What do you eat? Well, each athlete has their own tricks, strategies and rewards to get them through an Ironman… but here a few thoughts "running" through my mind on the big day…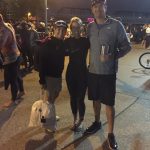 Swim…
I hope I can fit in the wetsuit (Mary was so sweet to lend it to me!!)
Spray lube is an amazing invention.
Did I drink too much coffee?
I hope the brand new goggles and wetsuit are ok? Eek!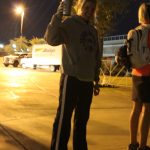 [ Splash] Water temp isn't too bad?
Don't kick… save your energy!
Are the buoys moving? Where is the turnaround?
Is that a trumpet blowing? Who would bring a trumpet?
Man, this chick in front of me is kicking like a motorboat. Chill lady.
One more bridge to swim under – almost there! (Don't look at your watch Jules!)
I hope the wetsuit strippers can get this sucker off! 
My arms are so tired, but I'm almost done – there's the swim exit!
These volunteers are awesome! They just yanked me right outta the water so fast!
I'm starving. 
T1…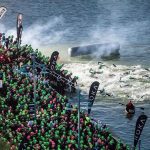 My arms are definitely stuck in this wetsuit…PULL DUDE!
Tent isn't as full as Louisville?
Man, it smells like sunblock, sweat and Gatorade in here.
Ok, move quick Jules … don't let the guys give you crap about putting make-up on in T1 again!
Do I have my tracker?
Bike…
This bike is a beauty… and it's mine!!
EASY pace outta town, Jules.  It's a long day…
Getting passed again, and again, and again…?  Damn.
What did I just run over? Am I getting a flat?
Mother effin wind!!  I wish I knew how to use this expensive power meter?
150 watts and barely 13mph… I think that's bad?
This new bike is kick A$$! I can't believe I'm getting snot and Gatorade all over it! :-/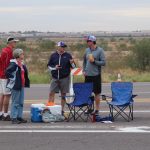 It looks like my family are volunteers? They're so awesome out here ALL DAY!
Ok, first lap was 2:08… I'm going to have to pick up the pace!! But Coach Soria said don't override the bike?!?! Careful Jules… 
Tommy was right – this saddle is probably not best for me. Ouch!
I'm too scared to grab a hand up. Nope can't do it. Will have to ration the 3 bottles on my bike…but I'm so thirsty!
Mile 80 – need to take another bite of my bonk bar!  1 full bar down… 
Mile 100 – I'm out of fluids and can't reach my second bar… but so close now! You'll be fine.
Don't override. Don't override. Don't override.
T2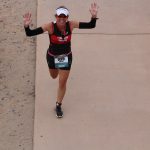 God bless the dismount line!  So happy to see you!
I'm pretty sure I'm walking like I just got off a horse…. but I think I can jog to the tent? Yes, GO!
Are my legs under me?
Ok, the tent really smells now! Omg, that stench will make me hustle…
This new clean jersey feels like a million bucks!
Why don't I have Yankz yet? I literally can't bend over to tie my shoes? 😉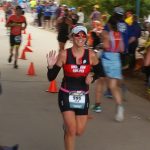 Run…
Time to run, find a pacer!
Wow, Coach Soria trained me just right… plan is going perfect. 8:45's and I feel good!
Forget the plan, push the first loop and see what you've got in the tank!! GO!
Am I having chest pains?  You're fine Jules!!
The guys would kick my a$$ if I stopped to walk right now on the first lap. Can't stop. Won't stop.
Where are my GU's? Oh, shoved down the front of my jersey. Nice they're hot now. Gross. Toss!
God give me a pacer for this second loop!  I need it!
Did Chad just point and yell at that girl in front of me saying I would pass her? Nice.
Is it raining? 
Omg, that is the BEST tasting banana I've ever had in my life. In.my.life!
Here is my support crew again! "Go Jules… this is the easy part, the run!" Sure, can't you see I'm dying out here? Deep breath …
My arm sleeves are officially soaked with snot. I hope no one can see that? 
Don't walk up this hill. You won't get started again…easy up it!
Is that my IT band? Don't go out on me now… eek! (Should of done more strength work per Hamlin…)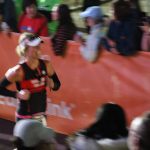 10K till Ironman, 10K till Ironman, 10K till Ironman … just like an easy Thursday run with Bridget.  You've got this…
Are my legs still there, are we moving? Calf is starting to cramp… just keep moving!
Did that guy say "wow nice pace" or "something on your face" ? Yeah, probably more snot. [WIPE]
I am literally wearing my sunglasses at night now. "I wear my sunglasses at night…" great jam. 
I've never been so thirsty in my life… what I wouldn't do for a 64oz Gatorade the size of my head right now !!
Mile 25… time to push, time to sprint it in. Gotta "Dig Deep" as Coach Soria would say.
One Mile till Ironman. One Mile till Ironman. One Mile till Ironman.
Where's the finish, omg?! Wait, I hear something …
Man, I can't see anything. Everything is blurry?  
I'm here… hold it together, Jules
Dang, those lights are blinding.
There's my family – I'm so glad they're here to be part of this moment with me.
There's that beautiful finish I've worked all day to finally cross…the moment is here. 
Finish. Praise God!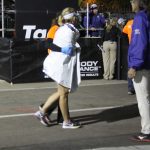 My catcher took me from my humble, broken, emotional state directly to medical. I was fine, really! But, I couldn't walk very well and was cramping pretty bad due to dehydration. But compared to the other issues I saw in the tent, I was perfectly fine! Although, it did take me awhile to be released due to ambulance transfers. Finally, I was released to Paul and Chad… I learned my official finishing time and was ecstatic! What a day! Paul pumped me full of muscle milk and got me in my warm-ups while Chad got the car packed and Jenn got my bike. Right then Paul said we couldn't stay to watch the other finishers – I guess I was shaking badly and was more "out of it" than he'd seen me before. So, off we went. 
But after the fluids kicked in I was like a new person and we went out to celebrate at Four Peaks Brewery for dinner and beers. Yes, I finally had a victory meal and shared a flight of beers with Jenn. I can't thank my family enough for making the trip and taking SUCH good care of me over the weekend. It means the world!! Literally couldn't do it without y'all pushing me along the way. And, thanks for all the support from afar and those cheering from back home – I appreciate it all so much!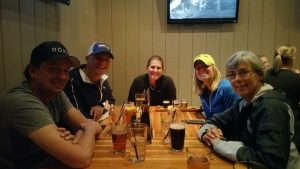 So what's next? Well I'm figuring that out, but I can't wait to see what God has in store for us… Cheers to off-season!
Stats: Swim – 1:13:15 | T1 – 8:29 | Bike – 6:13:26 | T2 – 5:14 | Run 3:48:47 | Total =11:29:11
Fuel: Bike – 3 bottles lemon-lime gatorade/water mix, 1 PB&J bonk bar, 2 licks base salt.  Run- lemon-lime gatorade at 6 aide stations, 2 quarters banana, 4 licks base salt.  
Photos: https://jennomo.smugmug.com/Ironman-Arizona/  (Photo Cred: Jenn Omo)