I'm about eight weeks out from Ironman Cabo… and while I've been here before, each time I approach the "big boy miles" cycle of training I have to brace myself and question my sanity a little. (Yes, more than usual!)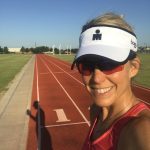 I find myself with the the typical blunders … aches, pains, fatigue, doubt, guilt, and hunger that runs so deep I'm not even hungry anymore? Believe me, it happens. And some days are harder than others (and I may even admit to crying in the shower when I've just had enough!!) But I have to put on my big girl panties, take a deep breath and suck it up – because you know what? I chose this and LOVE it, I really do!
While there is no secret recipe to combat what we go through as athletes, I've found a few things that always rise to the top as we prepare ourselves for 140.6… at least for me 😉
Buying in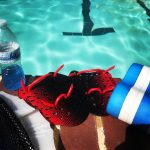 If you really want it, you gotta buy in 100% – otherwise you're not going to get up for 5am swim or make all your long rides, and so on…. You just won't! You have to fully commit and put your goals first and *almost* everything else second. This active choice to fully commit can be really vulnerable and often times scary. But by setting BIG goals and really putting it out there, we push ourselves to new limits and uncover something pretty magical in the process. We unlock that potential and open up the possibility to discover the athlete we can really be! As they say, set a goal that makes you want to jump out of bed in the morning…  what's yours?
Be in the now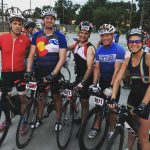 Training is not about going through the motions while our body and mind reside elsewhere.. it's about continued focused effort with our entire being. Sounds simple, but it's not!  How many times have you squeezed in a workout just 'going through the motions' or 'zoning out'? We're all guilty of empty miles but we must work towards engraving each discipline into our unconscious self – the goal is for race day to have our mind, body and spirit connect seamlessly.  It's not easy, but something my coach has me working on more than ever this time… it's helped me push through the pain and have an appreciation for what this body can do! Don't look too far ahead, look at today … and remember one step at a time! Are you tuned in to your workouts?  
Support Team
We all need mentors, coaches and supporters on this journey who can be honest with us and give us a nudge when we start to fall short and doubt ourselves. I'm so thankful for teammates who push me and help me grow in this sport.  
My husband, coach and sister in particular have impeccable timing and ask powerful questions that help me drill down to my soul and uncover my deeper motivation – they help me seek my spiritual and psychological drive when I need it most. It's amazing how just a few words can turnover your whole perspective… I am so blessed to have them and probably don't thank them enough for ALL they do! They are the ones who really keep me going day to day….Who's in your corner?
The next training cycle will test me and challenge me in ways I can't even anticipate yet. I've already hit some mental blocks and really hard days… But each time I hit the road or pool I know I've fully committed and bought into the process, I'm connecting my mind and body – focused on each workout –  and I have a support system behind me that will lift me all the way to 3X Ironman (and beyond!) 
#IMCabo
Because of the LORD's great love we are not consumed, for his compassions never fail. They are new every morning; great is your faithfulness. Lamentations 3:22-23