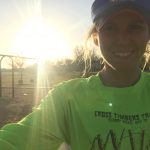 It's 4:46am and I find myself staring into the bathroom mirror contemplating if I can swim at lunch and go back to bed, but I already know the answer. Instead, I get up and join triathletes everywhere for the dreaded 5:30am swim practice. Despite my moaning and groaning, I must fit it in before the sun rises and the workday gets away from me…
Ironman training is not for the faint of heart. It is months, weeks, days, hours of training and recovery time with little time left over for any kind of real life. Am I ready for this again? Am I ready to tackle another full in 2018? Honestly, I've had a hard time getting my head and heart back into the training and finding the coveted balance one needs to 'put it all together' for 140.6. Training for fulls has been some of the hardest work I've ever done!   But does it have to be? I guess the jury is still out, but I know many of us show up to the start line over-trained, fatigued or worse – injured! With 15+ hours a week going into this sport, it's challenging every step of the way and we're often left wondering 'why am I doing all this?!'
Yes, there will always be a push/ pull relationship between Ironman training with work, family, friends and life in general – but as athletes can we find a suitable balance? For me, some weeks I'm nailing it (YEAH BABY!) and other weeks Paul wonders if he still has a wife the way I'm up early and home late between work and training. But, wherever you find yourself, here's a few thoughts and ideas to help along the way….
Have a plan, but be willing to adapt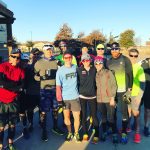 When you're a slave to the plan like me, you don't listen to your body, and don't recognize the warning signs. I'm constantly panicked about time and efficiency and have everything planned out – SO well in fact that I cannot adjust on the fly. It's a slippery slope that's got me in trouble a few times. It's important to know yourself well enough to adjust, but not slack.   Are you pushing past your fitness just to get the miles? Are you sacrificing form for speed? You get it. This is your life and it's up to you to make it happen, just be ready to roll with the punches…
In the words of Jim Elliot, "Wherever you are, be all there"
We are all guilty of this … While at swim we're mentally going through our to do list and mindlessly swimming.. Or, while on the trainer we're checking Facebook and doing work email. #guilty Our mind is constantly wandering to the next thing and rarely do we really focus on the workout at hand. There's been significant research showing the benefits of the mind/body connection during these sessions… so let's make them count!
Family Affair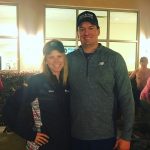 Don't go into each week with blinders on! Plan ahead and find ways to include your family or spouse into your training.   It will balance out your grueling work and they'll enjoy being part of your success. It's a win-win. My favorite workouts are at Sweat Society with Paul! We push each other and he makes me want to work even harder!
Don't forget the fun
We're all striving for more balance, but I also challenge you to keep the fun. Some days, not everything will get done and a workout gets cut short or missed and you know what, that's ok – life goes on!   I'm learning to let go, make peace and get back to why I fell in love with the sport in the first place. I encourage you also to enjoy the journey, celebrate the little milestones (as they become the big ones!), and always remember why you got started in the first place 🙂
Training for an ironman is scary and pretty vulnerable at times, but life is about taking risks and pushing yourself to the next level. Cheers to a balanced, fun and successful 2018 season!
Let us not become weary in doing good, for at the proper time we will reap a harvest if we do not give up. Galatians 6:9