In a blink.Just like that my first 70.3 was in the rear view mirror. All those tireless weekends out on the bike, early morning swims and track workouts were left on the Austin course Sunday afternoon. And, I sure did leave it ALL on the course! Every last bit I had in me.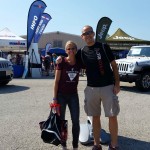 On Friday Zach, Jamie and I left for Austin. Making good time, we went right to packet pick up and registration that opened at noon. I was very thankful to have Zach with me who had done this before because there were so many different stations and steps to go through in the IM process – USAT/ID, wrist band, a few waivers, insurance information, bibs packet, oh and buying an IM shirt of course 🙂 We toured the expo briefly (it was starting to get busy!) and made our way back to his cousins ranch where we were all staying for the weekend. 
That evening we went to the coolest place for dinner – very Austin – called Dalihias. It was open outdoor seating with a "watering hole", kids old-school playground, and an outdoor stage with live music. I almost caved to an alcoholic beverage! Almost.
The next morning we slept in till 7:30am (ha!) and did a shake out run around the ranch. As I imagined this run felt slow, sluggish and awkward. But, I didn't let it get the best of me. I knew it would be that way. The day before always is for some reason?
Zach double checked our bikes (I had a brief freak out moment about not knowing how to change a flat) and we were on our way back to the expo for bike check and athletes mtg at noon. We had the very brief mtg that I found more nerve racking than helpful, and we met up with Paul and Dustin who were just arriving from their conference nearby. Paul helped me sticker my bike and get it over to bike check. (Which was actually a bigger fiasco than I ever anticipated because this race had two transitions about a mile apart… But nonetheless we got it done)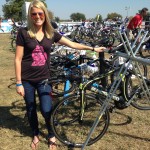 We had a "last supper" at Third Base. Yes, you saw that right – wth?! But, Michigan State was playing Michigan and Texas Tech was playing TCU so…. That's how it goes when you're with the boys!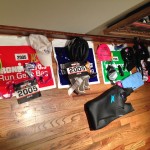 I took a nap that afternoon back at the ranch and woke up for a bit to snack and set up all my gear bags. What a task! I know I've said it before, but triathlon takes a lot of stuff! I triple checked that I had everything and settled into bed setting my alarm for 4:15am….
Oops, set the alarm for PM! Luckily I heard Zack getting up to make coffee. We slowly got ready talking through the day. Neither of us were nervous or ramped up. Very calm and at ease about what the day would bring. We snacked on the goodies I brought that my friend Christi packed for me (love her!) and had a delicious gluten free breakfast together. 🙂
We arrived to the convention center around 5:20am and the place was getting packed! We made our way to T2 to drop our Run bag and loaded the buses to T1 and the swim start. (I may or may not have been doing the potty dance in the bus line!  Phew!)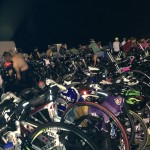 T2 was hoppin! Music blaring, athletes everywhere, bright lights, spectators staking their spots. I just stood in awe for a second. We got body marked and entered T2 to get set up. I still wasn't that nervous at this point but the energy was starting to build inside. Zach double checked my tires and made sure I had everything and we made our way to the swim start to watch the elites at 7:30am.
I was swim wave #15 and Zach was #16 so we had a little extra time to stand and wait. I was glad I brought a snack, fluids and long sleeve tee (it was actually chilly in the morning believe it or not?!)  I ended up losing that white rock marathon shirt but did gain some new swag so I'm over it 🙂
Paul, Dustin & Jamie got there just as my wave was about to head to the water. I was so excited to see my peeps!  I raced the swim rather conservatively – knowing in my head that it was going to be a long day. Because of the wave start I was always swimming with TONS of other swimmers. So, it was difficult to get my own groove and just swim. I was constantly running into others and having to rearrange around them.  (But, at least I knew I wasn't in the middle of the lake alone, right?!) I got knocked by a few elbows and kicked hard a dozen times but hey, I sleep with Paul? I'm used to it! This was my first wetsuit swim and I must say I'm a fan 😉 I get all the hype now about wetsuit legal races!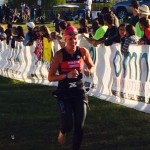 Out of the swim I looked down and my watch said 35:00 on the dot! I was psyched – hitting 35mins would be a stretch and I had done it. Off to a good start. Coming out of the water we had wetsuit strippers. Ok, not having done a wetsuit race before I didn't understand this concept and looked like a rookie :-/ This volunteer came at me and yelled, "stripping" and grabbed my shoulder and yanked on my back string starting to pull it off my shoulders — but I just ran away! I didn't realize they stripped it ALL the way off? Opps! I ran up the hill half stripped. 
Right up the walkway I first spotted Jason Spears leaning over the railing yelling, "awesome swim! Go Jules! Awe, I was so happy to see my friend! Then, just up the swim-out about 50yards was Paul, Dustin and Jamie cheering me along too – camera phones out snapping photos and yelling! Paul is easy to spot because he is so tall and Dustin because he's so loud 🙂 
I had a fairly good spot in T1 and was moving fast – adrenaline was pumping. I got all my swim stuff loaded in my T1 bag, got dressed to bike and grabbed my bike to the "bike out" while carrying my QR. Yes, carrying my bike. I got to the mount line without falling and was off. 
We hit a good hill right out of the gate and a sharp right turn out of the arena — where some jackwagon ran into me! Yes, we collided at the first right turn and we're moving together enough that neither of us went down. He cussed me out and was on his way… Ugh. I learned later that he missed the podium and roll down by one spot. Karma? Yes!
The rest of the bike was rolling hills with false flats and some big climbs leaving barely any recovery to prepare for the run. And, the terrain was pretty crummy — chippy and broken roads. After reading slowtwitch.com I learned that Austin typically is not THIS bad but the bike course changed slightly this year putting us further out in the country on bad roads. I just kept thinking, "Everyone is riding the same course! I've got this!" Unfortunately, I lost my awesome aero bottle at mile 5, it literally rattled off! So, I was down to two Gatorade bottles for 56miles. Certainly wasn't enough! (I am not good enough to take hand offs yet so I was  savoring what I had left) I also took down one bonk breaker on the bike at 35/40. My energy level felt ok but I knew I was going to have to play "catch up" with my calories/ hydration once I got to the run. 
I got passed by several people on the bike (as usual) but I felt like I was a stronger climber than other races I had been in. I was able to tackle the hills just as well as others around me. Big thanks to Zach and Spears for that 🙂
I had some watch issues (user error) and lost about 10miles somewhere so I didn't know *exactly* where I was coming in on off the bike. (I reset it for an accurate run time) But, I thought I was around 3:15 or so for the bike? I pounded through this transition stocking my jersey with GU and quickly ran out to see Paul, Dustin and Jamie again 🙂 I gave them a quick wave and smile and I was off to run my 13.1. 
I could NOT feel my legs — they were working on muscle memory for the next 1-3 miles. I just thought to myself, "legs, carry me!" I looked down after reaching the first pad and noticed I was a tad fast – I needed to slow down and pace if I was going to make it a strong finish to this day (or finish at all?). Consequently, my splits were all over the place.  (The hills also added to inconsistent splits.) It was a 3-loop run course and it was halfway on the second loop that I found Zach. "I knew you would catch me" he tiredly said to me. "Go get it! This is yours!" Just like that I was off trying to get my second GU down — focusing on staying as cool as possible as I finished the second lap. Aide stations were starting to run out of Gatorade, ice, sponges etc – and athletes were dropping like flies.  My third lap was mostly a blur except the last 1.5 miles when a few girls around me started to pick up the pace and I tried to hang too – I think they were holding 7:55's?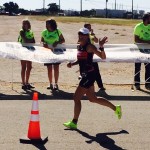 My body hurt in a way I haven't felt before – probably not since Chicago – and maybe not even then? My neck, back and shoulders were weighing on me from the bike and my legs and hips were deeply trashed from the hills. My left IT band was aching and pulling at the knee and my head was pounding from dehydration. Oh, and then my calves started to cramp .. I moved faster knowing that would ward it off and save me a bit. It did and I ran into the finish chute at 5:48! I quickly found Paul and we watched Zach come through minutes later. I hurt. Bad. But was honestly "fine" for 10 minutes or so before I went DOWN with calf cramps and seizing legs. Bad this time too :-/ Off to the med tent. DAMMIT
I spent almost an hour in medical trying to get my body "under control" – but looking around that place there were others far, far worse off than me. And, I really just wanted out so I could be with my friends again. Dustin sweetly waited outside for me while Paul got all my stuff out of the transitions with Zach. I was released and limped out of there around 3:30pm and Dustin got me to the car. Goodbye Austin 70.3!
I was in a daze and out of it for quite some time but was looking forward to sleeping in my own bed Sunday night. Unfortunately it was a 6 hour ride home – but I won't dwell on that! The boys got me the celebratory  Mexican food I was craving and I was a very happy traveler 🙂
Recovery this week has definitely been more than I anticipated – but I also haven't done a race before that lasted 6 hours? Will I do it again? You bet! But, I couldn't have done it without the amazing people God has put in my path. So incredibly thankful for an amazing, loving husband that supports me on this crazy journey.   Also, for my family who love, pray and cheer for me no matter the distance between us.  And, for my training buddies – my FRC peeps – who push me and support me on days I don't think I can take another step. Oh, and for my dear girlfriends who lift me up and make me laugh on the longest of days! #SSHHers! Also, for my supportive work family (who call me crazy as a term of endearment) and put up with during training season with a smile 😉 
My blisters will heal, my quads will stop burning and the exhaustion will subside.  But the memories of my inaugural 70.3 half irnoman will stay with me forever — I mean, you know what they say about your first time … you never forget! 😉