April is always an emotionally charged month for me. I have so many memories wrapped into 30 days that have shaped who I am today. New beginnings, frightening events, lessons learned and PR's earned. So, as I sit (on the bike trainer) on this wet spring morning, I start to reflect …
Most recently I came home from the Galveston Half Ironman where I did the relay with two amazing triathletes. I was so proud to swim on their team and share this experience with James Shukis and Kit Sy. We had our share of hiccups Sunday (extra yardage on the swim, TWO flats and side stitches) but what an experience to be a part of this team and part of Frisco Tri Club. The commradary and friendship of this club is what keeps me going on the toughest days… My heart is so full! I can't wait to see what we can accomplish together this season.
Also, Monday, April 11 marked six years since I did my first marathon in 2010. Oh, how the time flies and addiction increases out of control?!? I'll always have a soft spot for the Big D Race … The one that made me a Marathoner!! I missed my 4-hour goal that day, but it didn't matter.  I was on cloud nine. My legs were aching from IT pain and my body hunched over, but I never felt more alive crossing that finish line. I've done seven Fulls since then and 26.2 is now my favorite distance.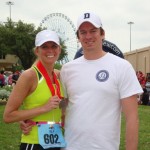 This 
Friday, April 15
 will be three years since Boston 2013 – the year of the bombings – the year I ran my 'First Boston' …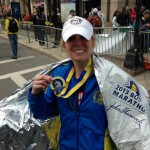 With many memories filling my mind this April, I'm excited to take part in a new one…
Now, Saturday will mark the very first half marathon in Frisco!! Everyone get ready for the Texas Big Star Half Marathon & 5K!!! It's been 18 months in the making and I couldn't be happier to debut this inaugural event with our amazing committee! I think the world of each of you and appreciate your talents, gifts and time to this event. Personally, after participating in countless athletic events I'm so excited to give back with a race truly catered to RUNNERS and our COMMUNITY! #runbigstar   Runners : If you haven't registered, don't delay!!
See you at the starting line…