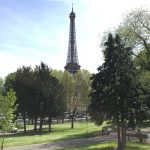 A small sliver of sun shined brightly through the drapes of my hotel room. My eyes opened slowly as if my lids were stuck to my eyeballs and my jet lag body lay very still … I couldn't move an inch.  Paralyzed from confusion and sheer exhaustion, I eventually remembered where I was at – what I needed to do. Finally, with all my might,  I swung my legs over the side of the bed and stretched up to stand. I let out a big yawn and opened my arms high in the air as if I was "King of the World" on the titanic. I peeked through the drapes to get a glimpse of the morning sun – it was glorious.
With that, I quickly got ready in my tourist-looking-run-gear: Nike Free shoes, Nike Tempo shorts and Disco Tri tee – in English writing.  Yep, could I look any more American?  Oh well, I pushed myself out the door before I could change my mind. I didn't have much time.  "Fast five" I thought..
The air was crisp like an early spring day in Michigan – the kind when it's 60 degrees and everyone in the mitten is wearing flip flops and shorts 🙂  But Paris was much different – everyone was layered up for winter with scarves, jeans and I event saw a few puff coats!  Again, I looked awkward wearing shorts. "Tourist!"
As I started out the city was already bustling with walkers,  taxis, open air cafes, tourists, lovers, runners, school children, fresh markets, and overall… Just beautiful people everywhere 😉 I headed towards Arc de Triophme but got stuck at every light! (And you need to follow the crosswalk rules or risk dying!) So, my first mile took me about 20 minutes. That was not going to work so I started back to the hotel… (What would people think of my Strava of 20:00/1mi?)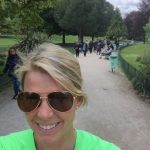 But on my way I saw some joggers head into this beautiful gold and black gated area that looked like an entry to a palace? Well, it wasn't a palace, it was Parc de Monceau – the most amazing running park I've ever seen!  The full lap around was about 3/4 mile with inner loops as well. Large trees, ponds, blooming flowers, playground – with yoga and bootcamps taking place in the green areas- just perfect! This became my 'happy place' for the rest of the trip and how I started each morning.  I would pray, run and just take in nature and the beautiful surroundings with each visit.
So, while I didn't get any hard efforts or set any training records during the trip, this was a growing experience for me to just live in the moment – be where I'm going to be – let my life take shape…
I've been so nervous that my training is not where it's supposed to be lately.  Life has taken me different directions and I'm working to be 'ok' with that.  I pray each day that God will help me push when I need to push – and pull back when I need to pull back – and to trust in Him.
I think Paris was a time to pull back, reflect and reset for what's to come. And what better place to do it?
"Be stubborn about your goals, and flexible about your methods"