America takes Boston!  First time since 1983 – Way to go MEB!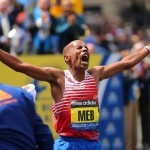 The day started out cool and crisp out in Hopkinton – sunny and 53 degrees. A "no excuse" kind of day. 
The elite women started off first promptly at 9:30am. 
Shalane Flanagan set an early pace for the women running with more passion and determination than we've ever seen from her. But it was the fastest field yet – passing her and taking the lead at mile 23 was the 105lb Kenyan Rita Jeptoo. Rita went on to win her second consecutive Boston and break the course record with a 2:18:57! She ran her last mile in 4:47 – holy crap! 
Shalane finished 7th with a personal best of 2:22:02 – an American record to boot! Boston, her hometown, is incredibly proud of her and she promises she'll be back! At the press conference after, fighting back tears, she tells us.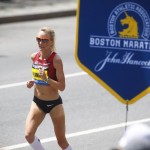 "I don't wish it were an easier race, I just wish I were better. I will be back here until I win it."
Thirty minutes after the elite women started the elite men arrived to the start. The lead pack stayed close together for the early miles but Meb took an unusual early lead from the pack. Ranked 19th going into Boston, he was a bit of a wild card! He kept up his lead past the half with fans going crazy seeing an American out in front! He started to lose his lead through the Newton Hills and by the time he hit the last two miles Wilson Chebet, another Kenyan, had closed the gap by just 8 seconds. Looking over his shoulder a few times Meb kicked it to another gear to finish in 2:08:37. Chebet finished 11 seconds after. But, Meb was already down kissing the ground, looking up to God with praise as the American flag was draped over him.  He had won!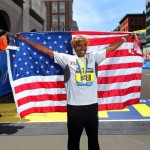 He tells us at the press conference after, "At the end, I just kept thinking, 'Boston Strong. Boston Strong,'" he said. "I was thinking give everything you have. If you get beat, that's it."
But, for most, this years race wasn't about winning or course records. It was about unity, strength, community and togetherness.  The stories poured out over social media and melted hearts! For example the runners who stopped to carry a runner who collapsed yards from the finish. The victims of 2013 – a couple who came back to race in the wheelchair event after losing limbs. The mother and daughter who returned this year who lost limbs from explosions as well – running on blades- crossed the finish line with their fundraising team. These stories – and many more –  warmed our hearts and souls.
Monday night The Trail Runners, Frisco Running Club and Frisco Triathlon Club joined together to support the World Boston Run. A way for those not in Boston to feel connected and alive with the spirit of the race. A big thanks to Wim for organizing this event and reminding us that near or far, running Boston or not- we are all a piece of #bostonstrong